Pope Francis: Christians Facing 'Polite' Persecution in Form of 'Modernity and Progress'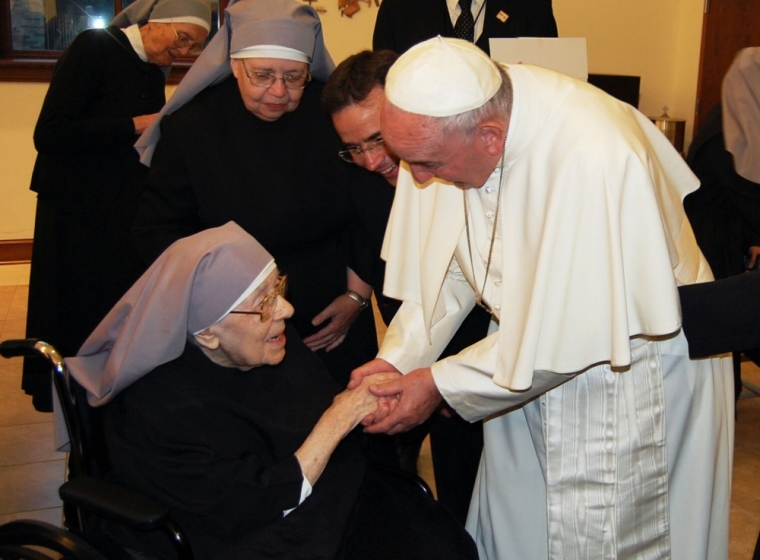 Pope Francis has warned that as Christians face severe persecution in countries where they are a minority, others are encountering what he calls "polite" persecution disguised as "culture, modernity and progress," where people see their rights to conscientious objection taken away.
The Roman Catholic Church leader said during mass on Tuesday that so called polite persecution does not occur over "confessing Christ's name, but for wanting to have and manifesting the values of the son of God."
"We see every day that the powerful make laws that force them to go on this path, and a nation that does not follow these modern, cultured laws, or at least does not have them in their legislation, are accused (and) are politely persecuted," he added, according to Catholic News Service.
The pontiff also spoke of the "everyday men and women" who are martyred for the faith, such as the men, women and children celebrating Easter Sunday in Pakistan who were killed in a bomb attack for practicing their faith.
He further noted that polite persecution "takes away from man and woman their freedom, as well as their right to conscientious objection."
The Vatican leader added: "Jesus has named the head of this 'polite' persecution: the prince of this world. And when the powerful want to impose behaviors, laws against the dignity of the son of God, they persecute them and go against God the Creator. It is the great apostasy."
While Francis did not single out particular issues or cases in his speech, he has argued for the right of conscientious objection on a number of occasions.
Back in September, he said "conscientious objection is a right — it is a human right," when asked by reporters about the case of Kentucky clerk Kim Davis, who spent several days in jail for refusing to issue marriage licenses to gay couples. Francis later visited and prayed with Davis, though the Vatican said he remained unaware of the specifics of the case.
In the same month, Francis visited the Little Sisters of the Poor organization during his trip to Washington D.C., offering his support to the group of nuns that is challenging President Barack Obama's birth control mandate in the Affordable Care Act.
The Little Sisters, who are due to have their case heard at the U.S. Supreme Court, are asking to be exempt from the mandate and from having to offer insurance that covers birth control drugs, as it goes against their Catholic faith.
"The Holy Father spoke to each of us individually, from the youngest postulant to our centenarian, and then he spoke to all of us about the importance of our ministry to the elderly," said Sister Constance Veit, communications director of the Little Sisters of the Poor. "We were deeply moved by his encouraging words."