Pope Francis: Gay Marriage Not Topic at Vatican Synod, Rather How to Support Families With Gay Children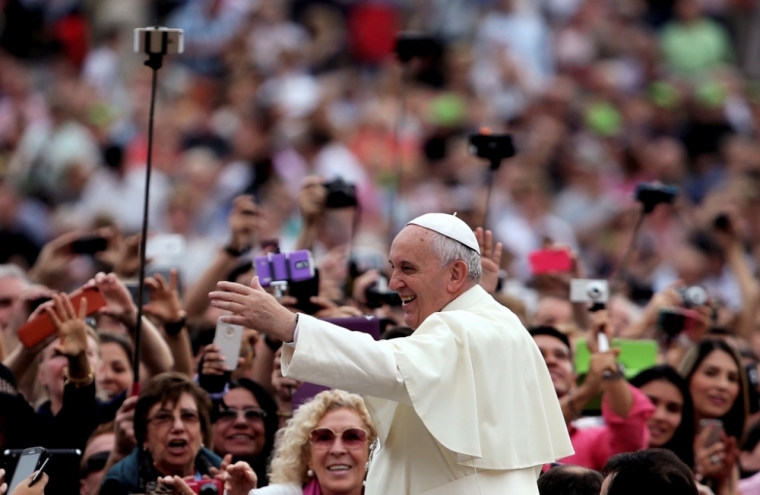 Pope Francis revealed in an interview that the topic of same-sex marriage was not brought up at the Vatican's two-week Synod on the Family in October. He said that what was discussed was how the Church can reach out to parents with gay children, a situation he has faced numerous times.
Francis spoke on a number of topics in his interview with Argentinean paper La Nacion on Sunday, and revealed that despite much media attention, the Roman Catholic Church's doctrine on marriage was not addressed – except when it comes to divorced Catholics who have been remarried.
The pontiff addressed reports of Catholic conservatives expressing concern at the synod discussing "positive nuances" of gay couples living together, and clarified that the focus of the conversation was reaching out to families with gay children.
"The synod was a process; the opinion of a synodal father was just that, the opinion of a synodal father; and a first draft was merely a first draft meant to record it all. Nobody mentioned homosexual marriage at the synod, it did not cross our minds. What we did talk about was of how a family with a homosexual child, whether a son or a daughter, goes about educating that child, how the family bears up, how to help that family to deal with that somewhat unusual situation," Francis said.
"That is to say, the synod addressed the family and the homosexual persons in relation to their families, because we come across this reality all the time in the confessional: a father and a mother whose son or daughter is in that situation. This happened to me several times in Buenos Aires," he added, referring to his time as Archbishop of Argentina's capital city.
"We have to find a way to help that father or that mother to stand by their son or daughter. That´s what the synod addressed. That´s why someone mentioned positive factors in the first draft. But this was just a draft."
He added that information sometimes is not correctly presented in newspapers, and assured people concerned that traditional doctrine is collapsing that that is not the case.
"I think some fathers made a mistake when they talked to the media. We decided that each one of us would grant as many interviews as he liked, with total freedom, no censorship was imposed. We chose transparency," he added.
As for debates on how the Church should address remarried people, Francis reflected:
"In the case of divorcees who have remarried, we posed the question, what do we do with them? What door can we allow them to open? This was a pastoral concern: will we allow them to go to Communion? Communion alone is no solution. The solution is integration," he offered.
Francis suggested that creating certain rules, such as not allowing remarried people to become godparents, could also be problematic.
The Vatican leader continued:
"And what if one of the political crooks among us, corrupt people, are chosen to be somebody´s godfather. If they are properly wedded by the Church, would we accept them? What kind of testimony will they give to their godson? A testimony of corruption? Things need to change, our standards need to change."
Pope Francis has often engaged with issues related to the family during his papacy. He revealed that he will be making his first visit to the United States in September 2015, where he will discuss premarital sex, homosexuality, infertility and celibacy, among other issues, at the upcoming World Meeting of Families congress.