Pope Francis Hug From 'Boy in Yellow Shirt': Photo Goes Viral as Young Boy Won't Leave Vatican Stage
A young boy wearing a yellow shirt has captured the heart of viewers across the world in a viral photo showing the child wandering up to Pope Francis during a Vatican ceremony and hugging him.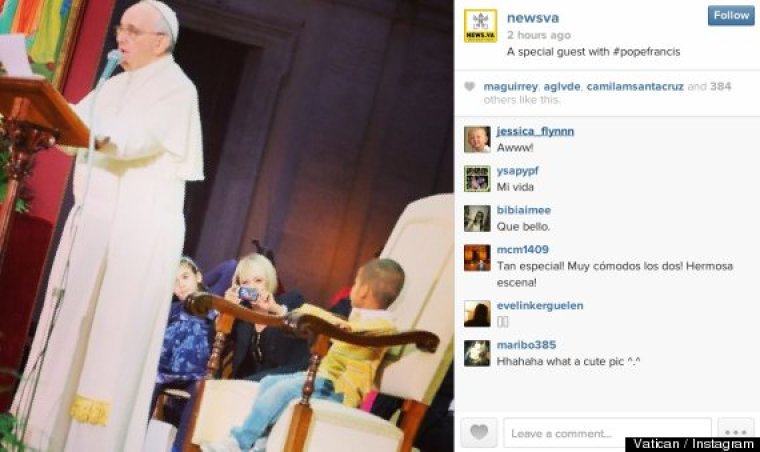 The young boy, who has been described as "the boy in the yellow shirt" by media outlets, wandered onto the Vatican stage during the pope's Family Day address to thousands in St. Peter's Square this past weekend. The pope continued with his address as the boy wandered around the stage, waving to the crowd and at one point hugging the pope's legs and even taking a rest in the pontiff's chair.
One security guard attempted to lure the young boy off of the stage with a piece of candy, but the boy, six years old, continued to express his love for the pontiff. Pope Francis took the unexpected attention all in stride, at one point even rustling the boy's hair and hugging him as he continued his Family Day address.
The child even attempted to help with the proceedings of the special ceremony, at one point leading a young girl by the hand to meet the pope and at another point holding onto the hands of the pope and a man he was meeting. As the pope was celebrating Family Day at the Vatican on Sunday, the stairs leading up to the altar were covered with children of all ages, but the young boy in the yellow shirt was the most brazen attendee to actually get up and meet the pope.
According to "Good Morning America," the boy is in fact an orphan from Colombia who was adopted by an Italian family in Rome just last year. The boy, who is being described simply as "Carlos" to protect his privacy, reportedly decided to approach Pope Francis all on his own, without the coaxing of his family. Carlos' mother said in a message via social media that "the blessing our son received goes out to all the abandoned children in this world."
At the October 27 "Day of the Family" mass at St. Peter's in Rome, Pope Francis advised the crowd of thousands on the importance of expressing gratitude and love to fellow family members. "If families can say these three things, they will be fine. 'Sorry,' 'excuse me,' 'thank you,'" Francis said.
"How often do we say 'thank you' in our families? How often do we say 'thank you' to those who help us, those close to us, those at our side throughout life? All too often we take everything for granted!" Francis added.