Pope Francis, Russian Orthodox Leader to Hold Historic 1,000-Year Meeting on Christian Persecution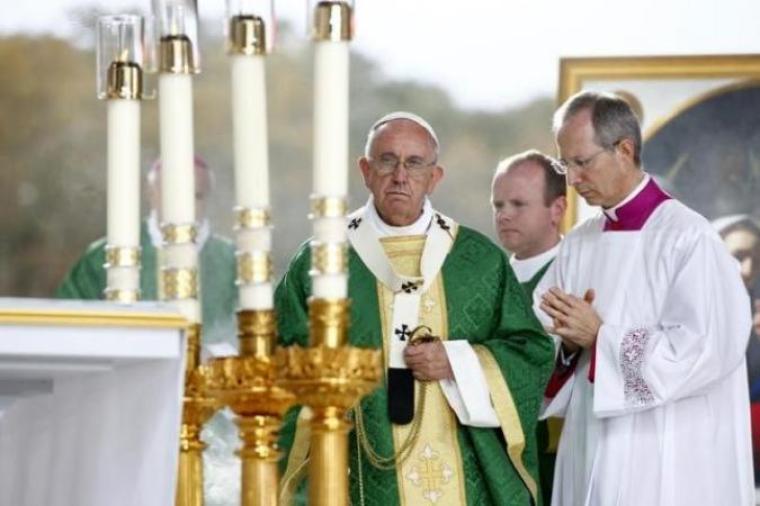 After years of disagreement, Pope Francis and Russian Orthodox leader Patriarch Kirill are planning to meet next week in Cuba to discuss the persecution of Christians in the Middle East.
The church leaders will meet at the Havana International Airport in Cuba on Feb. 12 and engage in a two-hour discussion on how to resolve the persecution of Christians, especially at the hands of the Islamic State terror group.
The upcoming encounter marks the first time Church leaders from the two denominations has come face to face in over 1,000 years. The Russian Orthodox Church and the Catholic Church separated in 1054 and have had a tense, alienated relationship ever since.
The Vatican confirmed in a statement that at the conclusion of their meeting, the two church leaders are planning to exchange gifts and sign a declaration relating to the plight of Middle Eastern Christians.
"This event has extraordinary importance in the path of ecumenical relations and dialogue among Christian confessions," Vatican spokesman the Rev. Federico Lombardi said in a statement this week.
Senior Orthodox Cleric Metropolitan Hilarion echoed a similar sentiment, saying, "We need to put aside internal disagreements at this tragic time and join efforts to save Christians in the regions where they are subject to the most atrocious persecution."
"The situation as it has developed today in the Middle East, in North and Central Africa, and in some other regions in which extremists are perpetrating a real genocide of the Christian population, has required urgent measures and closer cooperation between Christian churches," Hilarion added.
Both Churches released a joint statement this week saying that the meeting, after two years of preparation, "will be the first in history and will mark an important stage in relations between the two Churches."
"The Holy See and the Moscow Patriarchate hope that it will also be a sign of hope for all people of good will. They invite all Christians to pray fervently for God to bless this meeting, that it may bear good fruits," the statement added.
As The New York Times reports, the Catholic Church has, in recent years, been making an effort to bridge the divide with Orthodox leaders, although it has been especially difficult for Patriarch Kirill and Pope Francis to agree on a meeting.
After the Great Schism of 1054 separated Christianity into eastern and western divides, the Russian Orthodox Church seems to resent the Catholic Church, accusing it of poaching its believers in Russia and Ukraine.
The church said it its statement announcing the meeting that the issue of the Catholic Church's presence in Ukraine still remains a "bleeding wound" that has not been resolved. 
The Roman Catholic Church has maintained that it has merely offered support to the minority factions of Catholic believers living in the two Eastern European countries.