Pope Francis Strips US Cardinal of Title, Orders Life of 'Seclusion' Amid Sex Abuse Accusations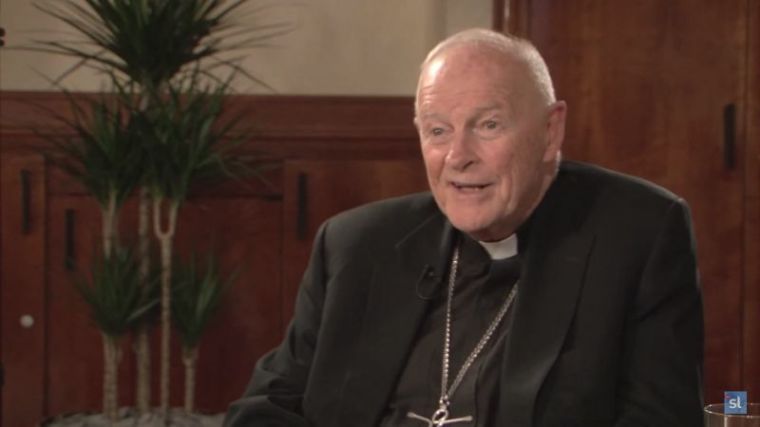 Pope Francis has ordered the suspension of Cardinal Theodore McCarrick, a prominent leader of the Catholic Church in the United States, from exercising any public ministry and placed him in seclusion "for a life of prayer and penance" following accusations of sexual abuse of a teenage altar boy decades ago.
Francis accepted the resignation of 88-year-old McCarrick, the former archbishop of Washington, D.C., on Saturday for allegedly sexually assaulting a teenager nearly 50 years ago, according to Reuters.
While McCarrick remains a priest, he can say Mass only in private pending a canonical trial.
James Martin, editor of America Magazine and a Jesuit priest, explained on Twitter: "McCarrick's resignation from the College of Cardinals means removal of the titles 'Cardinal' and 'Your Eminence.' ... 'Faculties' as a priest were removed earlier by his diocese, so he can no longer celebrate any sacraments. Other penalties may follow."
The allegations surfaced last month, and officials of the U.S. Catholic Church have said that they are credible and substantiated.
The alleged victim says that while he was helping McCarrick be measured for a robe for Christmas mass in 1971, the priest unzipped his pants and sexually assaulted him. A year later, he says that a similar assault took place in a bathroom.
Another minor recently claimed McCarrick abused him when he was 11 years old. Many other men have also alleged he forced them to sleep with him at a beach house in New Jersey when they were studying at a seminary for the priesthood.
The priest has claimed he has "absolutely no recollection" of the accusers.
The news of McCarrick's suspension comes the day after the Pennsylvania Supreme Court ordered the release of a 900-page grand jury report about child sex abuse by Catholic clergy in that state.
The report, carrying the results of an 18-month investigation, has names of more than 300 "predator priests" who served in the state's six dioceses, but the court has allowed the names of about two dozen clergy members to be concealed, as they claim it inaccurately or unfairly maligns their reputations, according to The Inquirer.
Pennsylvania Attorney General Josh Shapiro issued a statement following the court order, saying he will "continue to fight to ensure every single victim is heard and every priest, bishop, and church official is held accountable for their abhorrent conduct."
He added, "No one victim's truth is any less important than another and no one's criminal conduct any less loathsome. Today is a victory for the survivors but our work is not yet done."
Meanwhile, in Honduras, dozens of seminarians have warned that there is a widespread pattern of secretive homosexual practice in the top Roman Catholic seminary in Tegucigalpa, the nation's capital, according to National Catholic Register.
"Heterosexual seminarians are scandalized and really depressed," one unnamed seminarian was quoted as saying. "Many are thinking about leaving the seminary. I fear that many will leave."