Pope Francis Warns of 'Sickness' of Greed, Lust for Power, 'Spiritual Alzheimer' at the Vatican in Christmas Speech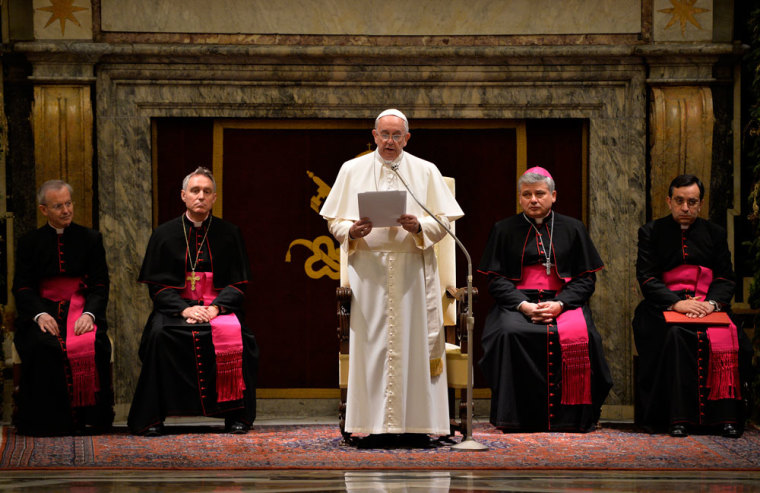 Pope Francis has spoken out against the "sickness" of greed and lust for power at the Vatican in his annual Christmas speech, warning that senior officials forgetting the importance of serving God is a sign of "spiritual Alzheimer." The pope's direct words left many clerics at the gathering "uncomfortable," according to observers.
"A Curia that is not self-critical, that does not stay up-to-date, that does not seek to better itself, is an ailing body. … It is the sickness of the rich fool who thinks he will live for all eternity, and of those who transform themselves into masters and believe themselves superior to others, rather than at their service," Francis said on Tuesday in a half-hour speech before the Roman Catholic Curia, the church's central administration.
"Spiritual Alzheimer's disease, or rather forgetfulness of the history of Salvation, of the personal history with the Lord, of the 'first love': this is a progressive decline of spiritual faculties, that over a period of time causes serious handicaps, making one incapable of carrying out certain activities autonomously, living in a state of absolute dependence on one's own often imaginary views," Francis continued.
"The ailment of rivalry and vainglory: when appearances, the colour of one's robes, insignia and honours become the most important aim in life. … It is the disorder that leads us to become false men and women, living a false 'mysticism' and a false 'quietism'".
The Vatican leader went on to name a host of other spiritual ailments that he said the Curia should be wary of.
According to some observers, many of the gathered clerics were left "uncomfortable" by Francis' words, the National Catholic Reporter noted.
Francis reportedly spoke to Vatican staff members in a separate speech, and asked for forgiveness for the "shortcomings" of senior church members, and the "several scandals" that had caused "so much harm," though he did not elaborate.
BBC News' David Willey suggested that Francis has met some opposition among the 3,000 member-strong Curia.
"He had never worked in Rome before his election as pope last year, and – as a Vatican outsider from the other end of the world – is clearly frustrated by the slow-moving and creaking Vatican bureaucracy," Willey wrote.
The pontiff has had to deal with a number of controversies coming from top level Vatican representatives during his time as leader of Catholic Church. Last year, he suspended controversial German "Bishop of Bling" Franz-Peter Tebartz-van Elst, following revelations that the bishop spent over $42 million on a luxury residence.
In his speech on Tuesday, he told the Curia that they are required to live "speaking the truth in love, we are to grow up in every way into him who is the head, into Christ, from whom the whole body, joined and held together by every joint with which it is equipped, when each part is working properly, makes the body grow so that it builds itself up in love."