Powerful 'End It' Video: Sex Slaves in Atlanta Shock Passers-By
The End It Movement, a coalition of organizations fighting to end human slavery, led by Pastor Louie Giglio of Passion City Church in Atlanta, has posted a powerful new video showcasing a group of sex slaves being driven around a transparent bus, prompting shocked reactions from onlookers.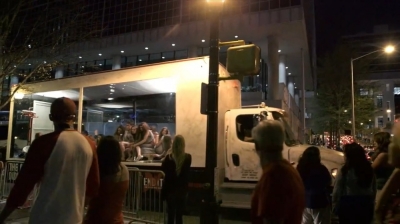 "We are here to shine a light on slavery. No more bondage. No more sex trafficking. No more child laborers. No more, starting now," the End It movement says. "Slavery still exists. We want every man, woman and child to know that there are 27 million men, women and children, just like them, living in the shadows, working as slaves, in 161 countries, including our own."
The video begins with a scene where a woman is kidnapped by a man and thrown into the back of a truck, where she finds herself among other captured women. The truck drives away through the countryside but once it enters a city, its walls suddenly become transparent. Disturbed onlookers notice the women, bruised and helpless, looking out at them through the glass windows.
A man posing as one of the kidnappers shouts at the captives, as the people looking at the truck react with disbelief, shock and confusion.
"Every year, women are trafficked to major sporting events to be sold as sex slaves," reads the side of the truck driving through the city.
While the truck with the sex slaves is a staged re-enactment, the responses from the onlookers are real – the movement says that the footage was filmed "at a national sporting event in Atlanta, Ga., on the weekend of April 6th."
The End It Movement held its "Shine a Light on Slavery" day on April 9, where tens of thousands of people across America participated by marking or wearing the symbolic red X, the group's logo, and encouraged others to find out more about human trafficking and what they can do to help.
"Then people have to ask – 'what is this?' At that point, we as a nation can raise our voice in honor of the 27,000,000 slaves. The hope of the movement [is] for everyone to know. Indifference is NOT an option," Masi Willis, project manager of the End It Movement, previously shared with The Christian Post.
The video ends with the question: "If you could see it, would you end it?"