'Pray Away the Gay' Program: Why Doesn't the Black Church Support 'LGBT Rights' as It Did the Civil Rights Movement?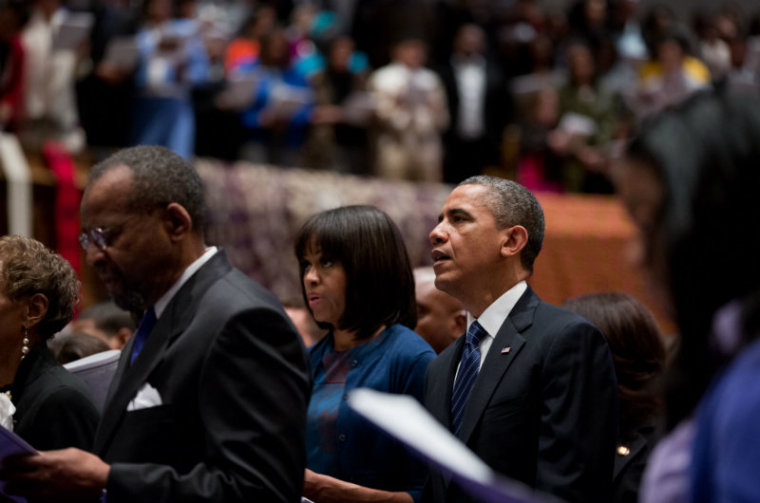 In a feature titled "Don't Ask, Don't Tell in the Black Church," Al Jazeera questions why the black church isn't playing a central role in the movement for "LGBT rights," as the institution did in the African-American civil rights movement of the 1950s and 1960s.
"In African-American churches — long known as the heart and soul of the black community — sexuality remains one of the most controversial issues," reads the introduction to the "America Tonight" piece by reporter Tonya Mosley on Al Jazeera's website.
Mosley is described as going "deep inside the black church to understand the source of the resistance to LGBT acceptance" and to hear "the experiences of those who've had their sexuality 'converted' through prayer."
The feature opens with the much-mocked clip of a young man declaring that he's "not gay no more" at the Church of God In Christ's 107th Holy Convocation in November. The clip features Andrew Caldwell, 24, announcing that he has been "delivered," or was no longer a homosexual.
Caldwell's case is presented as exemplifying "how some black churches believe that it's possible, through prayer, to convert gay people and cure homosexuality."
One guest interviewed to help address that claim is pastor Darryl L. Foster, who years ago abandoned homosexuality and now counsels men and women of color with same-sex attractions who want to do the same.
When asked how he "decides not to be gay anymore," Foster, a married father of five, responds:
"Well, it may seem a little complicated to some people, but for me, it began by me saying to myself, and disciplining myself to say, one, 'I'm gonna change my behavior. I'm not going to have sex with other men. I'm not going to pursue relationships with other men. And I'm not going to go to the places I used to go."
Foster's organization, Witness Freedom Ministries, is described as being at the "extreme end of how black churches deal with homosexuality."
Also featured in the program are Sharon Lettmann-Hicks of the National Black Justice Coalition, Derrick McCoy, associate pastor of Hope Christian Church in Maryland, and Delman Coates, another Maryland pastor and politician.
While the traditional black church has long been viewed as the fundamental institution of the African-American community, black Americans remain divided over homosexuality, particularly when religion comes into play.
The Pew Research Center, a nonpartisan fact tank in Washington, D.C., reports that in 2014, 43 percent of black Protestants favored same-sex marriage. A 2013 Pew survey found that 79 percent of black Protestants believe that homosexuality is a sin (11 percent do not). The same survey also found that 58 percent of black Protestants feel that there was some conflict between their religious beliefs and homosexuality, while 35 percent said there was no conflict.
Watch the "Don't Ask, Don't Tell in the Black Church" video below: