'Preachers of Atlanta' Singer Le'Andria Johnson Continues With Public Profanity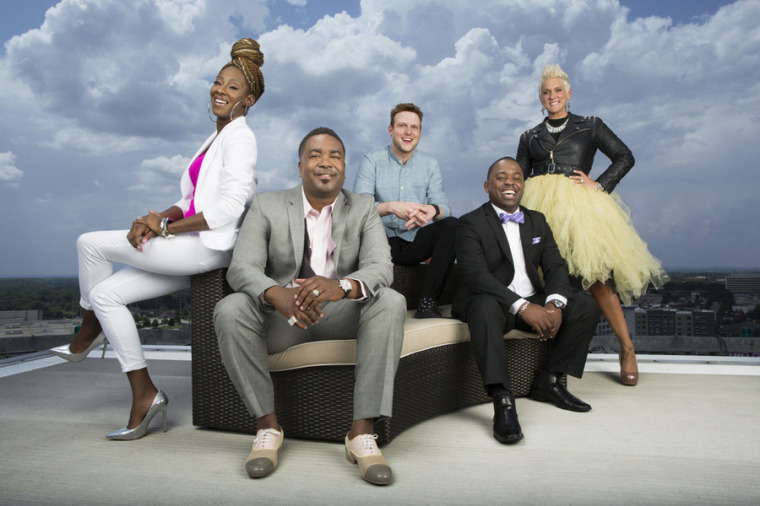 Preachers don't typically slip expletives into their sermons, but pastor and gospel singer Le'Andria Johnson is not afraid to publicly use profanity to get her point across.
"Cheers to kissing nobody's a**...," the Grammy Award winning singer tweeted, writing out each letter of the expletive.
The eyebrow-raising statement caused some of Johnson's over 100,000 social media followers to express concern.
"Please Don't Represent Yourself In This Matter. You Are Responsible For The Souls That Are Lost Because Of Your Example As A (Woman of God)," one person commented on her status.
Another person wrote, "I'm a believer and I know we as believers are imperfect. However, there was a young man that is an unbeliever and said that comment further convinced him to stay away from church."
However Johnson, the 32-year-old pastor and founder of Imperfect People Changing Ministries in Atlanta, Georgia, previously defended her decision to both curse and drink liquor on social media platforms like Periscope. This past Labor Day, a number of Johnson's followers witnessed her drinking tequila and uttering some expletives on the live stream platform.
After receiving some backlash for her actions last September, Johnson appeared on the Praise 102.5 radio station to explain and defend herself. The pastor insisted that all pastors and people of God struggle with things like cursing, but she was bold enough not to hide her vices from the world.
"Drinking and saying a few cuss words on Periscope..who doesn't cuss out there in the church world? I just want to know, any pastors and bishops and missionaries and saints and friends out there that doesn't cuss," Johnson questioned on the radio show "Darlene's Day Party." "If you're one of the pastors that doesn't curse than thank God, but what do you do?"
Johnson pointed out that many people watch television programs that showcase sex, violence, drinking and drug use when they leave church, but chastise her behavior. Instead, the singer and minister said people should be focused on loving one another.
"If I'm comfortable with my relationship with Christ and you are, then we should just love one another and help one another instead of just casting down one another," she said. "There are people out there who are not teaching the church it's ok to be you at the end of the day. (God) died for what we're doing right now, but they're not teaching love."
Although Johnson refused to make any apologies for her behavior, she said she was not trying to condone it either.
"I was not flaunting what I was doing, I was simply being me and enjoying being me. At the end of the day, if I was at the club doing it or at a lounge doing it then y'all would have had something to say about that too.. I was in my own house," she said on the radio program. "I wouldn't want a pastor who shows me he or she is walking that perfect scale all the time. I'm not condoning anything that I'm doing but I'm going to fall, I'm going to make some mistakes."
Johnson is gearing up to bring some of her brash behavior to the upcoming Oxygen docu-series, "Preachers of Atlanta." There, viewers will witness the preacher distributing cigarettes and condoms in the name of ministry.
"I take it to the streets. I pass out cigarettes and condoms," says Johnson, in the first trailer for the upcoming series. "I do all of that, but at the end of the day, when God tells me to do something, I do it."
Johnson will appear on "Preachers of Atlanta" starting Feb 3 at 10 p.m. ET. For more information about the show, please visit the Preachers on Oxygen Facebook page.