President Obama Calls 9/11 Museum 'Sacred Place of Healing and Hope' at Dedication Ceremony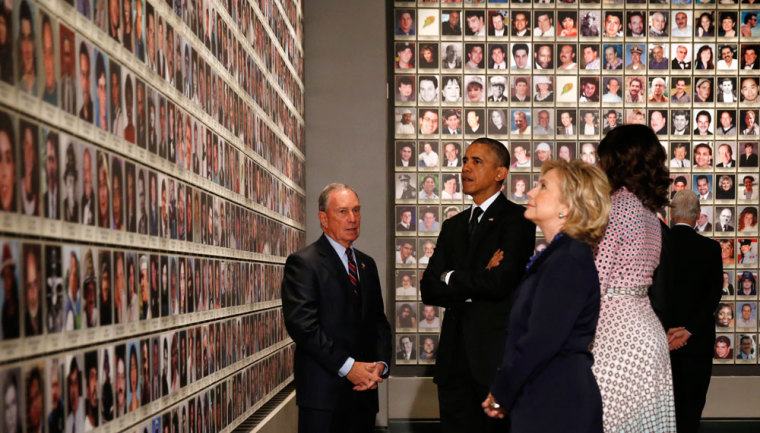 NEW YORK — President Barack Obama joined dignitaries and families of the fallen in New York City Thursday to mark the dedication of the National September 11 Memorial and Museum, which officially opened its doors 13 years after two airplanes crashed into the towers of the World Trade Center and claimed 3,000 lives.
While honoring those who lost their lives and the heroic actions of Welles Remy Crowther, a man identified by those whom he helped rescue at the cost of his own life as "the man in the red handkerchief," Obama expressed "deep gratitude to everybody who was involved in that great undertaking … for bringing us to this day, for giving us this sacred place of healing and hope."
"We come together, we stand in the footprints of two mighty towers graced by the rush of the eternal waters," said Obama. "We look in into the faces of nearly 3,000 innocent souls ... women and children of every race, every creed, from every corner of the world."
Returning to the self-sacrifice of Crowther, who personally helped victims flee the smoky and fiery towers during the terrorist attack in New York City's financial district, Obama said, "He gave his life so that others might live."
"Those we lost live on in us," the president added, "in the families who love them still, in the friends who remember them always, and in a nation that will honor them now and forever."
The president went on to speak of the resiliency of Americans, saying, "no act of terror could match the strength or character of our country" and that "nothing can ever break us … nothing can change who we are as Americans."
The National September 11 Memorial and Museum's Thursday ceremony kicked off "a tribute-filled, days-long dedication period" that runs through May 20 for victims' families, rescue and recovery workers, survivors and others affected by the events of 13 years ago, when 19 al-Qaeda operatives hijacked four airliners in attack on the U.S. While one plane was directed at the Pentagon in Washington, D.C. and another crashed in a field in Pennsylvania, two planes were flown directly into the Twin Towers of the World Trade Center.
Before its general opening to the public on May 21, the museum will remain open 24 hours during the dedication period to also "serve as a small tribute to the thousands of Ground Zero rescue and recovery workers who worked around the clock in the aftermath of 9/11 as the city, the nation and the world supported them." Learn more about the National September 11 Memorial and Museum online: http://www.911memorial.org.
Watch the dedication ceremony of the National September 11 Museum and Memorial in the video player below: