President Obama Says Gov't Shutdown 'Inflicted Completely Unnecessary Damage' on Economy
In a speech that showed both frustration and hope for the future, President Barack Obama addressed the American people Thursday morning after Congress reached a short-term compromise late Wednesday night to end the federal government shutdown, reopening the government until Jan. 15 and suspending the debt ceiling through Feb. 7.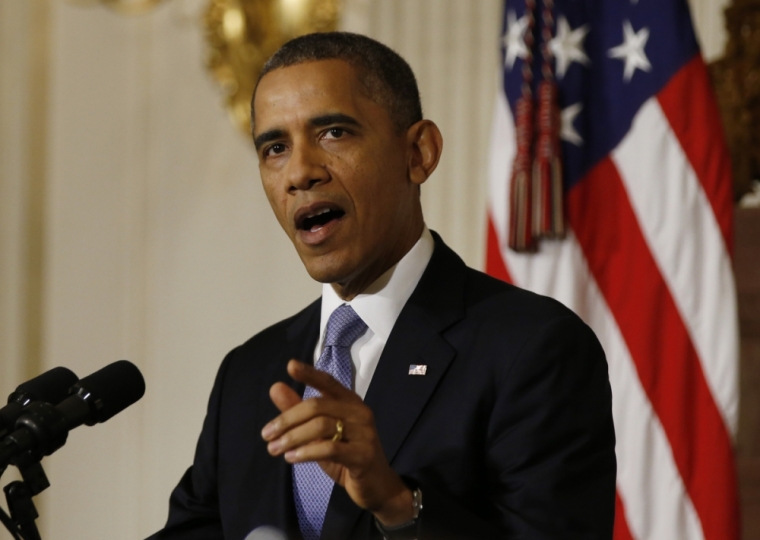 The president said in his address that the past weeks of federal shutdown have wreaked havoc on America's economy and the trust of the American people in their government. Obama sternly said that the federal shutdown has done more to undermine the economy than anything else in the past three years.
Obama added that the shutdown has "inflicted completely unnecessary damage" on the U.S. economy and American people, as well as "encouraged our enemies, emboldened our competitors, and depressed our friends who look to us for steady leadership."
The president added that the most significant loss in this dysfunctional Washington process was losing the trust of the American people. "To all my friends in Congress: understand that how business is done in this town has to change because we have a lot of work to do on behalf of the American people and that includes regaining their trust," the president said.
"It's no surprise that the American people are completely fed up with Washington," he added.
The Commander-in-Chief then changed his tone midway through his 20-minute address to a more hopeful outlook on the future, saying, "The good news is we'll bounce back from this."
"We keep our word and we honor our obligations; full faith in credit in the U.S. remains unquestionable," the president continued.
Obama concluded his speech by saying the way business is done in Washington has to change in order to positively advance the U.S. economy.
Early Thursday morning, Obama signed the short-term bill that reopened the federal government for three more months. The reopening of the government means hundreds of thousands of furloughed government workers will return to their jobs and national parks and monuments will reopen. The bill signed by the president passed the House by a 285-144 vote and the Senate by an 81-18 vote. The bill only temporarily addresses the government's disagreement over federal funding, but it also laid the groundwork for talks over broad budget issues in the future.
Political pundits contend that this recent federal shutdown not only rattled the U.S. economy but also revealed the intense division and dysfunction in Washington between Republicans and Democrats.