President Trump Condemns Islamic Extremism in Saudi Speech
President Trump has called on Arab and Muslim countries to take a stand against Islamic "radicalization" during a speech in Saudi Arabia.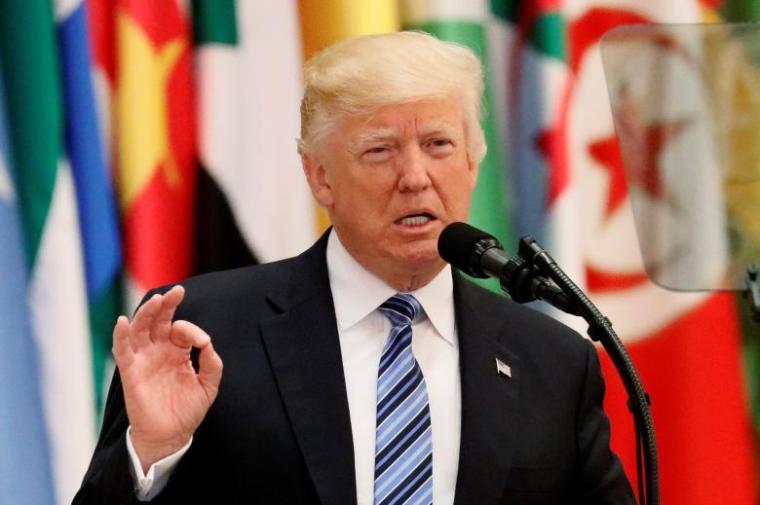 The 70-year-old American president flew to the Saudi capital Riyadh in his first official foreign visit.
Trump focused on the themes of unity and peace as he addressed a gathering of the top leaders in the region. He told the leaders that his goal is a "coalition of nations who share the aim in stamping out extremism" and building a future for children that honors God.
Trump spoke about the growing number of victims of Islamic extremism not just in America but in Europe, Africa and Middle East as well. He also noted that while other countries bore the brunt and violence of radical groups, "the deadliest toll has been exacted on the innocent people of Arab, Muslim and Middle Eastern nations."
He urged the leaders to fight and get rid of the terrorist organizations that preyed on the innocent.
"Drive them out," he entreated. "Drive them out of your places of worship. Drive them out of your communities. Drive them out of your holy land, and drive them out of this earth," he said.
Trump reminded the leaders during his speech of the beauty and potential that the Middle East region holds for the whole world. He described it as an area "rich with natural beauty, vibrant cultures, and massive amounts of historic treasures" — a place considered as the cradle of two great religions.
Trump said violence, persecution and terror have stained all these treasures. If the problem is left unattended, not only lives will be lost but the future of many people as well, he warned.
In his speech, the president also put the blame on Iran for the "instability" happening in the region.
He said Iran is the fuel that brings the radical groups "safe harbor, financial backing, and the social standing needed for recruitment" in its quest to destroy Israel and America and bring ruin to other countries in the region.
Prior to Trump's address in Riyadh, news came out that Iranian President Hassan Rouhani was reelected, according to the Wall Street Journal. Many observers believe that his victory was a sign that the nation is keen to improve ties with the west.
The Iranian government has not released any official statement regarding Trump's speech. However, The Financial Times reported that Iran Foreign Minister Mohammad Javad Zarif took to Twitter to deride the ties between U.S. and Saudi Arabia.
"Iran – fresh from real elections – attacked by @POTUS in that bastion of democracy & moderation. Foreign Policy or simply milking KSA of $480B?" wrote Zarif.