Priest Who Slapped Crying Baby in Face to 'Calm Him Down' During Baptism Retires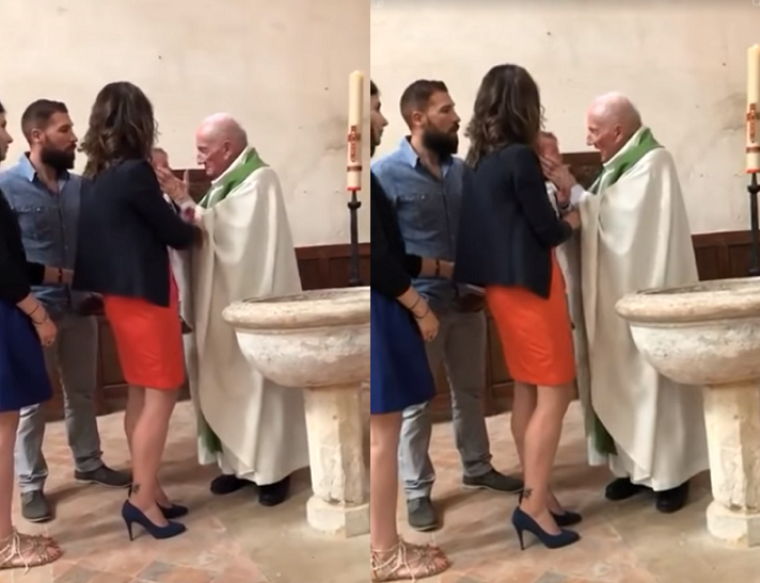 Father Jacques Lacroix, an 89-year-old French priest who lost his temper and slapped a crying baby in the face to "calm him down" during a baptism ceremony at the historic Collegiate Church in Champeaux, France, two Sundays ago, says he's now retired from ministry.
Despite international outrage over his actions during the baptism ceremony, Jacques, who apologized for the incident as he announced his retirement, also told France Info radio on Friday that what he did to the boy wasn't quite a slap.
"It was somewhere between a caress and a slap, I hoped to calm him down, I didn't know what to do. The child was screaming a lot and I had to turn his head to pour water over it. I told him to 'calm down, calm down' but he was not calming down," Jacques explained.
"I tried to hold him close. I just wanted him to calm down. I apologized for my clumsiness to the family. I am finishing my ministry now, it was my last baptism, there is an end to everything," he added.
A 43-second video clip of the controversial slap went viral on social media last week, sparking international outrage. It shows Jacques holding the 2-year-old boy's face while attempting to calm him down as a man and a woman who appear to be the child's parents look on, unbothered at first. At about the 23-second mark in the video, the priest applies what appears to be a sharp slap to the left side of the child's face and he begins wailing even louder as the man and the woman quickly try to wrestle the baby from him.
Collegiate church in a statement Friday blamed Lacroix's actions on "tiredness," but suspended him from his priestly duties anyway.
"This loss of coolness can be explained by the tiredness of this elderly priest, but that does not excuse him," the church said.
"On Friday, June 22, Bishop Nahmias, Bishop of Meaux, took provisional measures to ensure that the priest was suspended from all baptism and marriage celebrations. These measures also require him not to intervene on the Collegiate Church of Champeaux now and to celebrate masses only at the express request of the parish priest," it continued. "Let us confide to the Lord the family of the baptized and our brother Jacques Lacroix."
Nahmias said that while the boy's parents have accepted Lacroix's apology, he regretted that a moment that was supposed to bring them happiness had devolved into a painful one for the child.
"This gesture is all the more regrettable because the baptism is meant to be a happy moment, but tiredness and great age clearly played a part," he said.