Pro-Choice Feminists Want to Shut Down Abortion Debate, Carly Fiorina Says at March for Life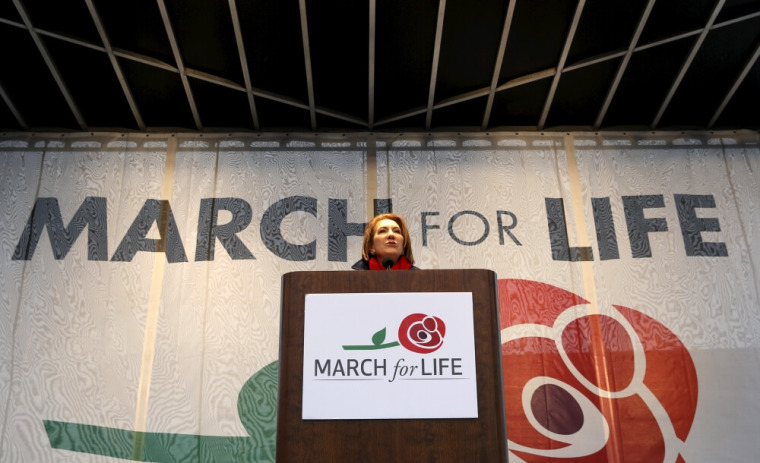 Republican presidential hopeful Carly Fiorina declared that pro-choice Feminists are attempting to shut down debate over the issue of abortion.
At the annual March for Life in Washington, DC on Friday, the former Hewlett-Packard CEO told those gathered outdoors that "feminism now shuts down conversation on college campuses and the media."
"If you are a pro-life man or heaven-forbid a conservative woman who doesn't believe the litanies of the left then you are a waging a 'war on women' or you a threat to women's health," said Fiorina.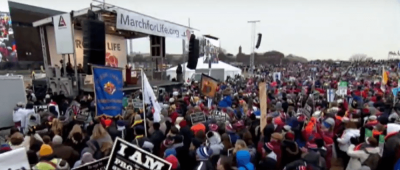 "Or you are variously described as 'window-dressing', that is how they described U.S. Senator Joni Ernst or 'offensive as a candidate'."
Fiorina also spoke about the importance of the new election, stating that the next president will have an "awesome responsibility to pick up to four Supreme Court justices who will decide issues of life and religious liberty."
"She will decide whether we force taxpayers to fund the political arm of the abortion industry, whether we as a nation believe as the Democrat platform says that a life isn't a life until it leaves the hospital," said Fiorina.
Fiorina's comments were part of the annual Washington, D.C. March for Life, a large gathering of pro-life activists who come to the Nation's Capital on the anniversary of the controversial Supreme Court decision Roe v. Wade.
Taking place on a day when much of D.C. was closed for the oncoming blizzard, thousands of activists marched from National Mall to the Supreme Court building.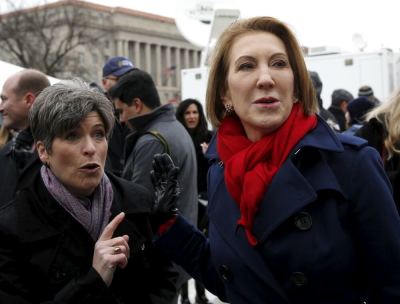 The theme for the 43rd March for Life was Pro-Woman and Pro-Life being complimentary rather than contradictory terms.
Jeanne Mancini, president of the March for Life Education and Defense Fund, told those gathered in the wintry weather that "pro-life and pro-woman go hand in hand."
"Abortion is not good for women, psychologically or physically," declared Mancini, who encouraged marchers to use social media to spread awareness of the event.
"The empowering truth that all of us here know is that being pro-life and pro-woman go hand in hand. Science, research, and our own lived experience support this."
Other speakers at the March for Life included Republican Senator Joni Ernst of Iowa, Republican Representative Chris Smith of New Jersey, Focus on the Family President Jim Daly, and NFL player and Super Bowl champion Matt Birk.
"We march because I've never heard a woman give birth to a baby and then say 'I wish I had an abortion.' That's why we march," said Birk.
"Because if black lives matter, lives in the womb matter. That's why we march. Because if you've ever seen a baby being born, even though it happens millions of times a day, its still a miracle."
While Fiorina was the only presidential candidate who spoke at the rally, most all of the Republican field have made promises to the pro-life movement to enact certain agenda items if elected president, including the defunding of Planned Parenthood.