Pro-Life Advocates Skeptical That Spending Bill Will Lead to Obamacare Abortion Transparency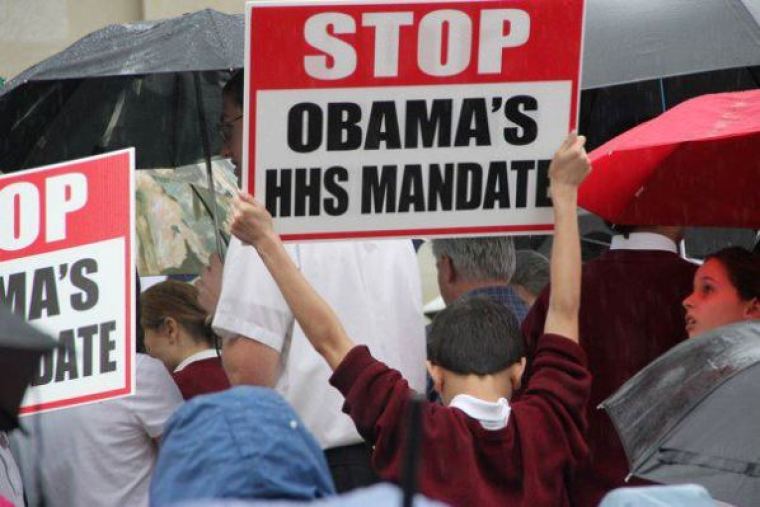 Although a federal funding bill the House passed on Thursday includes language urging the Department of Health and Human Services to ensure Obamacare's federal health exchange provides consumers with transparency on which plans include a separate elective abortion surcharge, pro-life advocates are skeptical that HHS will actually listen to Congress.
Pro-lifers in the House sought to include in the CRomnibus appropriations bill, which would keep the federal government funded through next September if it passes the Senate, two concrete amendments that would have forced greater abortion transparency on the exchanges and created a legal course of action for those individuals and institutions discriminated against because they do not cover abortions for their employees.
But to the ire of pro-life advocates, neither the No Taxpayer Funding For Abortion Act nor the Abortion Non-Discrimination Act were included in the base bill. Instead, pro-lifers had to settle for non-binding language, which is seen as just a slap on the wrist to HHS for not providing consumers with enough detail about which plans on the exchange cover elective abortions.
"The report language is simply telling HHS to clarify with the insurers which plans basically do and don't cover elective abortion," David Christensen, the vice president of government affairs for the social conservative and pro-life advocacy group Family Research Council, told The Christian Post in a Friday interview.
"It's a report language only and it is not legally binding. It is Congress' directive to HHS to provide clarification. It is a shot across the bow, but is not an actual requirement, like it would be if it was an amendment included in the bill," Christensen added. "We wanted to see no taxpayer funding of abortion and transparency. We wanted to see the Abortion Non-Discrimination Act in the bill. We are disappointed that [they] were not included in the bill."
Christensen said that pro-lifers are not confident that the language will actually be taken seriously by HHS because the agency has ignored earlier letters from members of Congress that have addressed those issues. Christensen foresees a Republican-controlled Congress having to pass such language in the form of legislation next year in order to require HHS to formally make the desired changes.
"So far, HHS has given no reason to believe that they are going to uphold conscience or provide transparency for abortion. They have given every indication that they have refused and their pro-abortion ideology has prevented them from protecting conscience or providing transparency," Christensen asserted. "If HHS doesn't provide transparency, doesn't start defending the lawm the Weldon Conscience law, then Congress is going to have to come back and pass these laws and we expect that this is going to have to happen."
FRC, in coordination with the Charlotte Lozier Institute, have long been advocating for the federal and state health exchanges to provide consumers with information on what health plans the exchanges offer that force consumers to pay a "separate" abortion surcharge, which gets thrown into an abortion slush fund that covers elective abortions.
The fear is that many users of the exchanges might enroll in a plan that requires abortion surcharges, even though they might have a moral or religious objection to it, simply because the exchange did not make it apparent that the plan covered elective abortions.
After a Government Accountability Office report found that over 1,036 Obamacare plans in 28 states included the surcharge for elective abortions, FRC and Charlotte Lozier Institute took it upon themselves to provide the abortion transparency that they say is lacking in the federal and state exchanges. The organizations joined together to create their own website, ObamacareAbortion.com, which includes an interactive map showing users what plans in which states include the abortion surcharge and which do not.
"What we have done with this website is doing the job that HHS should be doing, which is providing transparency for health plans covering abortions," Christensen added.
Even though pro-lifers did not get the amendments included in the bill that they desired, Christensen sees the report language as a step in the right direction.
"I want to acknowledge that while we are disappointed, its also a step in the right direction to put HHS on notice once again," Christensen said. "Members of Congress had sent letters, but HHS has ignored them. Now, the entire Congress has put them on notice."