Pro-Life Christians: Join Us in Praying for the Supreme Court, 40 Days for Life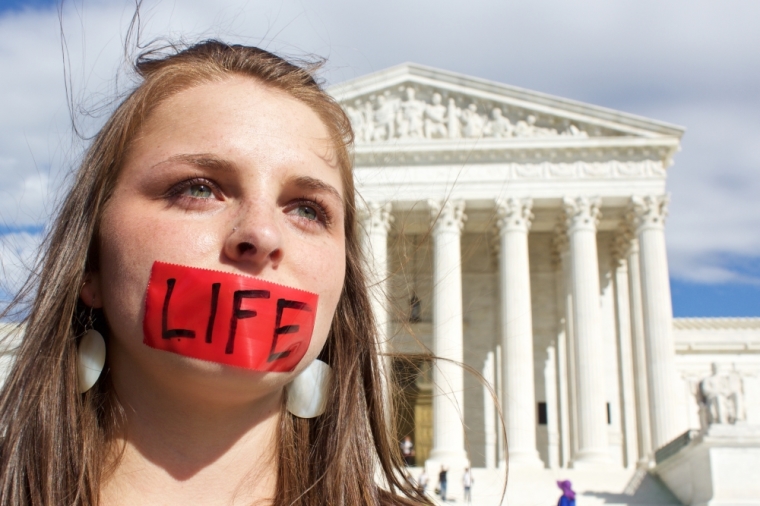 This week, a coalition of pro-life and faith-based groups — most based in Texas — are coming together under the banner Texas Loves Life. We're not doing it for press conferences, lobbying or other common reasons. The coalition Texas Loves Life exists solely to pray for the Supreme Court, believing for life to be upheld as the court considers an important Texas pro-life law in the current session.
Carol Everett, founder of The Heidi Group based in Round Rock, Texas, addressed pro-life faith leaders on our first conference call (recording now online) this past Monday.
"We recently surveyed our network of 183 life-affirming pregnancy centers in Texas, who reported increases as high as 300 percent of women using our ultrasound and other services," said Everett.
"Working from that detailed survey, we estimate at least 40,000 lives have been saved in Texas since HB 2 was enacted in 2013," she concluded.
Carol Everett then led us in prayer for the women her team serves and for life to be upheld in this case.
Prayer conference calls will continue monthly. In addition, starting February 10 and going to March 20, team members from Bound4LIFE, David's Tent DC and 40 Days for Life will be praying in front of the U.S. Supreme Court for 40 days straight.
Those dates coincide with a larger 40 Days for Life campaign, which is happening in 273 cities worldwide — as people pray peacefully in front of abortion centers, courthouses and other venues. Right in the middle of this 40-day period, on March 2, both sides will face off as oral arguments are heard at the Supreme Court.
As we begin this intense season of prayer, we need to know what's at stake. The truth is, few people understand this pro-life law and its status in the courts … and even fewer pray about it. During the next few months, we will cry out for justice in a spirit of constant prayer. As we pray, it's important to be informed.
What's going on right now has been building since five years ago. In 2011, state legislators across America enacted a record number of pro-life laws — many of them inspired not by any lobbying group, but having prioritized the life issue after praying about it. Inevitably, the pro-abortion side challenged these laws in court.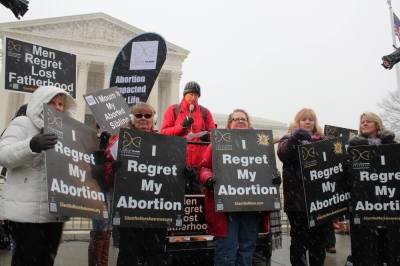 Some of the most effective pro-life laws were enacted in 2013, including in Texas. Despite the number of pro-life legislators in the state, Texas had long been one of the nation's foremost providers of abortion. Then a coalition of legislators, led by State Rep. Jodie Laubenberg and supported by Governor Rick Perry, crafted a set of pro-life policies to protect Texas women in 2013.
There was great opposition to the pro-life bill, which came to be known as HB 2. As drama unfolded at the Texas State Capitol in Austin, prayer was unmistakably present. One pro-abortion legislator led a filibuster for 11 hours against the pro-life law, obstructing it from moving forward. Crowds of pro-abortion protestors were bussed in from out-of-state, causing such a commotion that the vote couldn't take place on schedule.
Life Tape became a symbol of unity for pro-life advocates who gathered in Austin. Many prayed silently wearing the red Life Tape, or wore it in solidarity as they peacefully held signs to proclaim life.
Eventually, HB 2 was passed on July 18, 2013 with bipartisan support. This common-sense law has four major provisions, two of which have gone into effect resulting in at least 40,000 lives saved as Carol Everett recently reported.
Yet the abortion industry — subsidized by we the taxpayers — has challenged this law relentlessly. Their challenge to two portions of HB 2 is now before the U.S. Supreme Court, in the case Whole Woman's Health v. Hellerstedt. The nine justices will hear from both sides on March 2 during oral arguments, and their ruling in the case is expected by June 30.
A few months ago, I asked a Texas leader who was really engaged in the battles over this state law: "So what's happening now?"
He replied, "Well, nothing. It's in the courts, it's out of our hands."
His answer chilled my bones. After protesting, lobbying and electing another strongly pro-life governor, believers in Texas cannot take a passive stance now that this law has reached our nation's highest court.
In fact, this case will impact every state in the nation — affecting whether pro-life policies protecting women's health will expand, or whether they will contract. It all comes down to the questions presented in this case.
Abortion providers claim that two provisions of HB 2 create an "undue burden" on women seeking abortions. The Texas law specifies that abortion centers must comply with minimal ambulatory surgical center standards, which include important safety measures. HB 2 also requires abortion providers to have admitting privileges at a hospital nearby their abortion center.
Allan Parker, whose public interest legal firm The Justice Foundation submitted a brief in the Texas case, elaborates on why these two provisions matter: "In a botched abortion, a woman ends up needing to quickly go to an emergency room — which is why these abortion centers need doorways and hallways large enough for a gurney. The woman also needs continuity of care once in the hospital, rather than an abortionist who is nowhere to be found."
All states currently recognize a right to access an abortion center for its services; but does that access mean states cannot enact health and safety standards? That's what nine Supreme Court justices will decide in this case, and their ruling will affect every one of our nation's 320 million citizens.
This law protects the lives of women. The true nature of the abortion industry — taking advantage of those most vulnerable — has been exposed in recent years, both from the Center for Medical Progress videos and the horrific conditions found at Kermit Gosnell's abortion center. Ensuring health and safety is not an "undue burden."
The next five months are some of the most pivotal the pro-life movement has ever faced. It's why I feel such an urgency to see Christians working together to pray specifically for this case.
Prayer is a partnership — first, between each of us and God.
In Matthew 18, Jesus tells us there is also power when we come into agreement: "If two of you agree on earth about anything they ask, it will be done for them by my Father in heaven. For where two or three are gathered in my name, there am I among them."
I encourage you to get involved with Texas Loves Life: join us on the conference calls, tell your church about this effort and even think about joining us at the Supreme Court during this 40-day period of prayer.
Nine human beings are going to make a decision on this Texas law HB 2; we must engage at this crucial moment to protect the innocent lives at stake.
Matt Lockett serves as Executive Director of Bound4LIFE International and Justice House of Prayer DC. He and his wife Kim live in the Washington, DC area with their four children. Formerly he had a career in advertising and marketing; these days, he really wishes he had paid more attention in government class. Follow @mattlockett on Twitter.