Thousands March for Life in Washington Despite Arrival of Winter Storm Jonas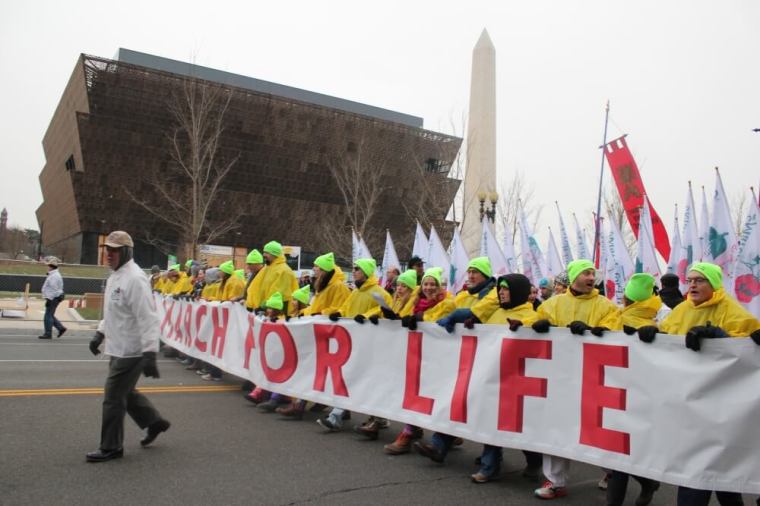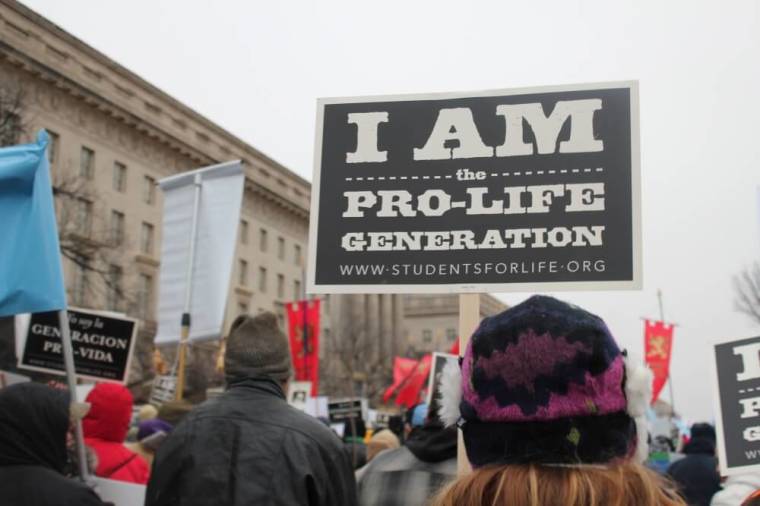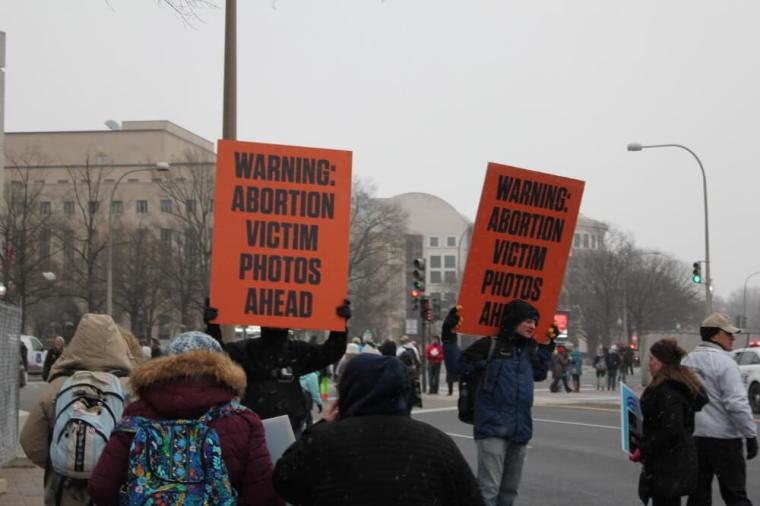 View Photos
WASHINGTON — Thousands of devoted pro-lifers braved through the threat of Winter Storm Jonas and marched down to the United States Supreme Court Building Friday to demand an end to abortion by participating in the 2016 March for Life on the 43rd anniversary of the court's decision in Roe v. Wade.
The march, which was preceded by a rally featuring a number of prominent pro-life speakers including Republican presidential candidate Carly Fiorina, began in front of the Washington Monument right as the snow began to fall. But, the early arrival of the winter storm could not deter the participants from continuing their 2-mile trek down Constitution Avenue.
"The world may think that we are a little bit crazy to be here on a day like today but those of us standing here know that there is no sacrifice too great to fight the human rights abuse of abortion," March for Life President Jeanne Mancini told participants before the march.
This year's theme for the march, "pro-life and pro-woman go hand in hand," combats the rhetoric used commonly by the abortion proponents that those who are against abortion are against women or orchestrating a "war on women."
"First and most importantly, the woman's capacity to have a child is an incredible, beautiful and amazing thing. It is something inherent to women," Mancini said. "It is a miracle, not a liability. This is true for women who might not even be biological mothers. It is a beautiful, beautiful thing. The ability to be a mom is a part of who a woman is as a person."
Mancini detailed how some women who get abortions go through physiological and emotional distress and even die as a result of abortion. She highlighted the death of 18-year-old Hollie Patterson, who died from Clostridium sordellii toxic shock syndrome after she received a medical abortion at a Planned Parenthood clinic in California in 2003.
Out in front of the Supreme Court building, abortion victims from the pro-life group Silent No More provided their testimonies of how their abortions have caused a lifetime of regret and pain.
Irene, from California, said that when she was going through a crisis pregnancy 12 years ago, she was told that an abortion would be a "quick fix."
Irene explained that she was 24-weeks pregnant when she had a chemical abortion. However, the chemicals didn't instantly kill her daughter and she ended up having to go to a local labor delivery hospital where she gave birth to her daughter after seven hours of labor and then had to bury her daughter soon after that.
"She was absolutely beautiful and she is now buried at a cemetery in Southern California," I had to tell my [8-year-old] son recently that I am the reason he visits his sister at the cemetery. Abortion is not a quick fix, abortion is absolutely humiliating, it is absolutely devastating."
Mary Anne, who said she had her first abortion in 1975 when she was 18, said she and her boyfriend kept the 1973 Roe decision in mind when she made the decision to get her first abortion, saying that, "We thought that if the government said it was Ok, it was Ok to abort."
"I remember IV's and extreme physical pain. I was drugged up and I couldn't walk to the car. It was days before I woke up," Mary Anne recounted. "After the abortion, I suffered horrific periods of Pelvic Inflammatory Disease, Endometriosis, Ovarian Cyst and I also had a hysterectomy in 2010 to rule out ovarian cancer. I also had a double mastectomy. What I did not know was the physical, the psychological and the spiritual adverse reactions to what I did."
"I believed the big lie that I would be Ok," Mary Anne added.
Julie, from Rhode Island, said she was 17 and on her way to college when she got pregnant. She too, believed that abortion would solve her pregnancy problem. She explained that at the time, she had no idea the damage it would cause her for the rest of her life. She said that the act of killing her child "catapulted" her into "alcohol, promiscuity and repeating the cycle again" until 18 years later when she came to Christ.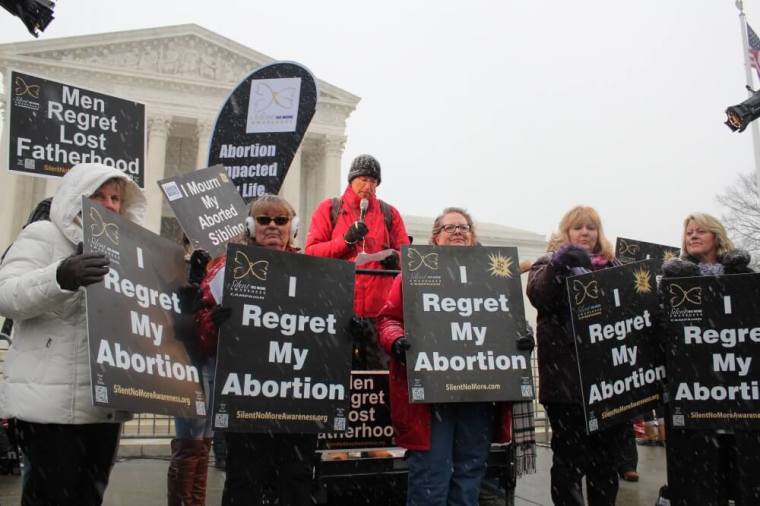 Contact: <ahref="mailto:samuel.smith@christianpost.com">samuel.smith@christianpost.com,
@IamSamSmith
(Twitter)