Pro-Life Mov't May Hit Democratic Party Long Held 'Hostage' by Abortion Lobby, Say Activists at CPAC
National Harbor, Md. — Members of a panel on anti-abortion activism at the Conservative Political Action Conference on Friday afternoon believe that the current trend of political successes for the pro-life movement may influence the Democrat Party.
"Abortion-centered feminism is dead. I really believe that's true. Now it certainly could crawl back in the crevices of new elections and new conversations and new legislative battles," said Marjorie Dannenfelser of Susan B. Anthony List.
"If we stay on the track we're on, we will continue into the next election against Hillary Clinton potentially, with a very strong, emboldened pro-life, pro-woman course, only not just Republicans but in the Hispanic community and among Democrats," she predicted.
Besides Dannenfelser, the other panelists included Dr. Charmaine Yoest of Americans United for Life and Darla St. Martin of the National Right to Life.
In an interview with The Christian Post, St. Martin explained that she believes "the establishment Democrats have made it very difficult for pro-life candidates."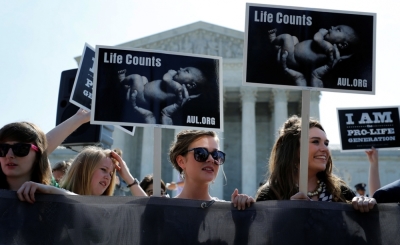 "It is very, very difficult for them. But there are many pro-life Democrat people out there and hopefully there will be a resurgence," said St. Martin.
Titled "Baby Steps: the Pro-Life Success Story," the panel was moderated by Matt Smith of the Catholic Advocate, who also gave introductory remarks.
"[This is] a very distinguished panel that has been leading the way for a lot of our pro-life success in this country," said Smith. "They are in the trenches every day. They're really into it when it comes to strategy and policy and what needs to be done."
Each panelist discussed recent successes in the debate over abortion, including passage of various state-level abortion regulations, the closure of many abortion clinics, and the 2014 congressional elections, which brought in several pro-life candidates.
There was also mention of the challenges that lay ahead, including the effort to defund Planned Parenthood, the public's overall positive opinion of the organization in question, and the challenges facing other pieces of legislation.
Yoest of AUL told CP that she "hoped" the Democratic Party would see a resurgence in pro-life candidates as she felt "defending life should transcend politics and it should transcend political parties."
"It should not be the province of simply one party but the political reality right now in our culture is that the Democrats have radicalized themselves," continued Yoest.
"[Democrats] have really become hostage to the abortion lobby and that's really a shame for them and it's a tragedy for the country."