Raiders QB Derek Carr Says God Is the 'Ultimate Healer' Amid Season-Ending Injury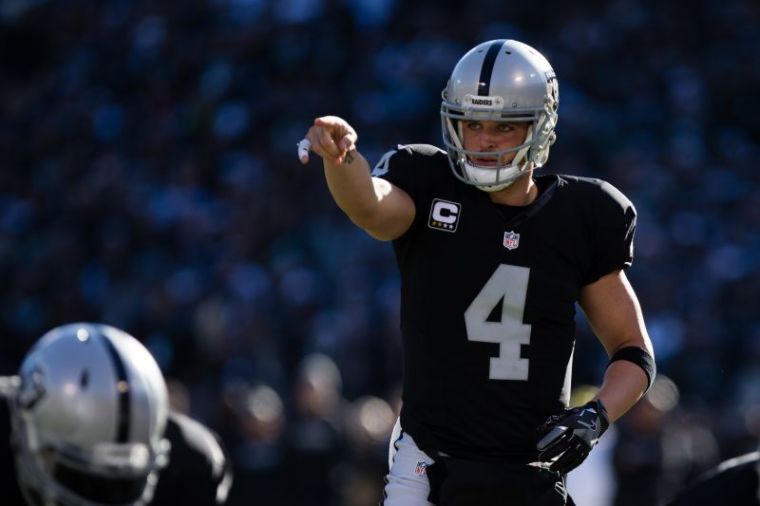 Oakland Raiders' quarterback Derek Carr suffered a season-ending injury on Saturday but he's keeping the faith and says God is his "ultimate healer."
The Raiders have been having their best season in a long time but this weekend's matchup against the Indianapolis Colts could have brought that to a halt when Carr suffered a broken fibula.
Although Carr won't be playing in either the Super Bowl or the Pro Bowl, the athlete says he still has hope. And he credits that hope to his faith in Jesus Christ.
Saturday night, after his season-ending injury was announced, Carr took to Twitter to share his feelings. He used the opportunity to encourage his fans to put their faith in God while testifying that he is not worried about his injury because of his relationship with God.
"Thank you to everyone that has been praying for me! Things happen in life that we don't always understand, BUT I do KNOW this: I serve a God that loves me and this is the ultimate healer!" He wrote.
"I am not worried one bit. I will bounce back and be on my feet within no time! Thank you for all of the love that you Raider Nation showed me in that stadium today. I will be back. This is a team sport! So everything WE want is still out there for us!"
He ended the Twitter post by assuring everyone that he would see them soon. The tweet also included a reference to the Old Testament scripture Joshua 1:9, which says: "Have I not commanded you? Be strong and courageous. Do not be afraid; do not be discouraged, for the Lord your God will be with you wherever you go."
Carr also posted a picture on Instagram of himself being helped off the field with the caption: "This will be a day I will never forget! He will be glorified!!! Much love everybody! I will be back stronger than ever very soon!!! #Blessed"
The third-year player is known for frequently speaking about his Christian faith, and has said that it's the most important thing in his life. Carr has two tattoos that showcase his faith as well. One is a verse from the Old Testament book of Jeremiah and the other is a Chi-Rho symbol, which symbolizes Jesus as the risen Messiah.
Despites Carr's season-ending leg injury, the Raiders were still able to take home the victory over the Colts on Saturday, clinching a spot in the playoffs. And as The Raiders press on for a chance to win the Super Bowl, they will now have to do it without the 25 year old star player.