Rand Paul on Syria: 'America Should Only Go to War to Win…US Should Not Fight a War to Save Face'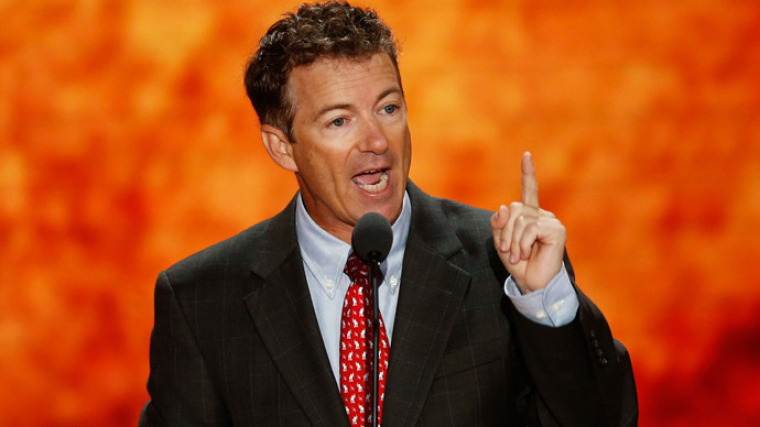 As President Barack Obama seeks to shore up support for the hotly debated plan to launch a military strike against Syria, U.S. Sen. Rand Paul (R-Ky.) charged on Wednesday that military action is the wrong approach to the Syria dilemma and he won't support it.
In an op-ed published in TIME on Wednesday, Paul invoked the wisdom of former United States Secretary of State and retired four-star general in the U.S. Army, Colin Powell, that war should be a last resort and that "America should only go to war to win".
"War should occur only when America is attacked, when it is threatened or when American interests are attacked or threatened. I don't think the situation in Syria passes that test. Even the State Department argues that 'there's no military solution here that's good for the Syrian people, and that the best path forward is a political solution'," wrote Paul.
"The U.S. should not fight a war to save face. I will not vote to send young men and women to sacrifice life and limb for stalemate. I will not vote to send our nation's best and brightest to fight for anything less than victory. If American interests are at stake, then our goal should not be stalemate," he said.
"Bashar Assad is clearly not an American ally. But does his ouster encourage stability in the Middle East, or would his ouster actually encourage instability? Are the Islamic rebels our allies? Will they defend American interests? Will they acknowledge Israel's right to exist? Will they impose Shari'a? Will they tolerate Christians, or will they pillage and destroy ancient Christian churches and people?" asked Paul.
"The President and his Administration have not provided good answers to any of these questions. Those who seek military action have an obligation to publicly address these concerns before dragging our soldiers into another Middle Eastern war. Shooting first and aiming later has not worked for us in the past, and it should not be our game plan now," he noted.
At the Group of 20 (G20) Summit in Russia on Thursday where both developed and developing countries met to discuss reviving Global economic growth, world leaders were reportedly pressuring President Obama not to launch a military strike against Syria, according to Reuters.
That report noted that China, the European Union, the BRICS emerging economies and Pope Francis (through a letter) pointed out the dangers of military action without approval from the U.N. Security Council.
"Military action would have a negative impact on the global economy, especially on the oil price - it will cause a hike in the oil price," said Chinese Vice Finance Minister Zhu Guangyao.
An NBC News report pointed out on Thursday, however, that Russia is a key ally of Syrian President Bashar Assad and U.S. ambassador to the United Nations, Samantha Power, said there was "no viable path forward" for support in the U.N. Security Council, where both Russia and China have veto power.
Russian President Vladimir Putin has characterized U.S. plans for a military strike against Syria an act of "aggression" and charged on Wednesday that U.S. Secretary of State John Kerry had lied to Congress about the role of al Qaeda in the Syria conflict.
"I saw debates in Congress. A congressman asks Mr Kerry: 'Is al Qaeda there?' He says: 'No, I am telling you responsibly that it is not'," said Putin at a meeting of his human rights council in the Kremlin, according to Reuters.
"Al Qaeda units are the main military echelon, and they know this," he added, referring to the United States. "It was unpleasant and surprising for me – we talk to them, we proceed from the assumption that they are decent people. But he is lying and knows he is lying. It's sad."