Rand Paul Wants Supreme Court to Review Constitutionality of NSA's Surveillance Programs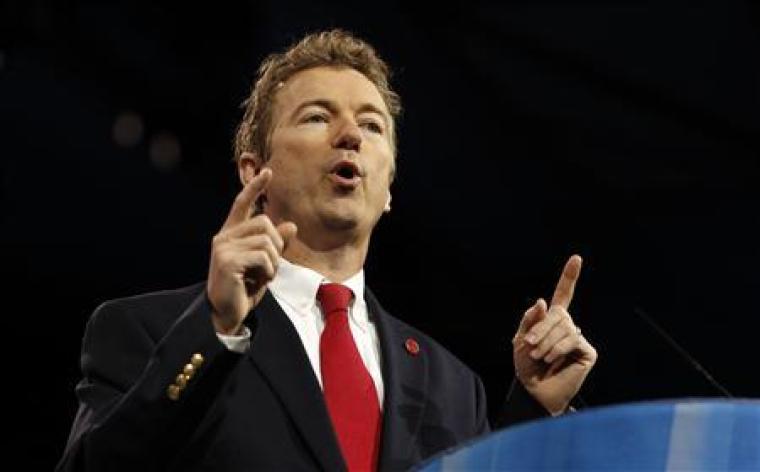 Arguing that congressional hearings and new safeguards recently announced by President Barack Obama might not be enough to ensure privacy rights, Sen. Rand Paul (R-Ky.) called for the Supreme Court to review the constitutionality of the National Security Agency's surveillance programs.
"One of the fundamental things that our Founders put in place was they wanted to separate police power from the judiciary power. So, they didn't want police to write warrants – and the NSA are a type of police. They wanted a judiciary, an independent, open judiciary, responsive to the people with open debate in public," Paul told John Roberts on "Fox News Sunday.
"I think the constitutionality of these programs need to be questioned and there needs to be a Supreme Court decision that looks at whether or not what they're doing is constitutional or not," added Paul, who is a key member of the Homeland Security Committee.
The NSA discussion stemmed from a media report last week that the organization broke privacy rules or overstepped its legal authority thousands of times per year, according to an internal audit revealed by former defense contractor Edward Snowden.
Paul, who noted that if Snowden hadn't leaked the data America would have still been in the dark on the NSA's activities, argued that the Supreme Court would provide a more objective assessment of the NSA's activities than an internal audit.
"I think the whole program needs to be reviewed but it can't be an internal audit. There is sort of a similarity between this scandal and all the other scandals. The president thinks that the IRS can police themselves as well and that they'll do an internal audit. He thought the State Department could do an internal audit also," said Paul.
"The only way to find justice is you have to hear both sides. So, there really needs to be a discussion from people who are a little bit more skeptical of the NSA in an open court I think before the Supreme Court on this – on this program," added Paul.
While he was highly critical of the NSA's activities, however, the senator from Kentucky noted that with appropriate oversight, the program could go on.
"I think it would be better with more oversight but there are some things that they're doing that I fundamentally think are unconstitutional," said Paul.
"Our Founding Fathers, when they wrote the Fourth Amendment, they said a single warrant goes towards a specific individual and what you want to look for. You ask a judge and you say John Smith we think is doing this. We have probable cause to think that he's involved with a crime and you get a warrant," he noted.
"The Constitution doesn't allow for a single warrant to get a billion phone records. You know, they have a warrant that says, we want all of Verizon's phone calls, all of AT&T's phone calls, all of et cetera, et cetera, they basically I believe, probably, are looking at all the cell phone calls in America every day," he said.