Rep. Matt Salmon Opposes Same-Sex Marriage, Even Though His Son Is Gay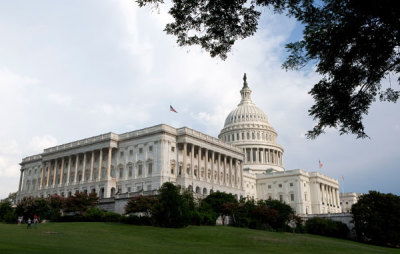 Rep. Matt Salmon (R-Ariz.) spoke out to reaffirm his support for traditional marriage even though his son is openly gay and a former president of the Arizona Log Cabin Republicans.
The U.S. Supreme Court hearings last week on California's Proposition 8 and the Defense of Marriage Act have prompted members of Congress to either change or reaffirm their stance on same-sex marriage.
Salmon said in an interview with KTVK-TV that he loves his son, but that fact doesn't stipulate that he become an advocate for same-sex marriage.
"I don't support gay marriage," Salmon said during his interview with the local news station. "I'm just not there, as far as believing in my heart that we should change 2,000 years of social policy in favor of a redefinition of the family."
He continued, "It doesn't mean I don't have respect, it doesn't mean I don't sympathize with some of the issues, it means I haven't evolved to that station, Rob Portman apparently has."
Sen. Portman (R-Ohio) announced last month that he was changing his position on same-sex marriage because his son is gay.
On Tuesday, Sen. Mark Kirk (R-Ill.) became the second Republican to add his name to the growing list of lawmakers who support same-sex marriage.
In a statement released by his office, Kirk said, "Same-sex couples should have the right to civil marriage. Our time on this Earth is limited, I know that better than most. Life comes down to who you love and who loves you back – government has no place in the middle."
Other members who have come out in favor of same-sex marriage are Sens. Tom Carper (D-Del.) and Bob Casey (D-Pa.).
In a statement posted on his website, Casey said on Monday, "At a time when many Americans lament a lack of commitment in our society between married men and women, why would we want less commitment and fewer strong marriages? If two people of the same sex want to raise children, why would our government prevent them from doing so, especially when so many children have only one parent, or none at all?
"As a Senator and as a citizen, I can no longer in good conscience take a position that denies [same-sex partners] the full measure of equality and respect."
Likewise, Lisa Murkowski (R-Alaska) might be adding her name to the pro-same-sex marriage ranks after telling constituents that her opinion on gay marriage is "evolving," according to the Chugiak-Eagle River Star newspaper.
During an interview with Chuck Todd on NBC's "Meet the Press" on Sunday, Sen. Jeff Flake (R-Ariz.), said that although he would support and vote for a Republican presidential candidate who advocated for same-sex marriage, he's going to continue to uphold the traditional definition of marriage.
"I believe that marriage should be between a man and a woman," said Flake, who added that he "supported repealing Don't Ask Don't Tell," and he "supported the non-discrimination act as well." But he's not going to waiver in his support for "the traditional definition of marriage."