Repealing HB 2 Will Allow the Left to Target Religious Freedom, Benham Brothers Warn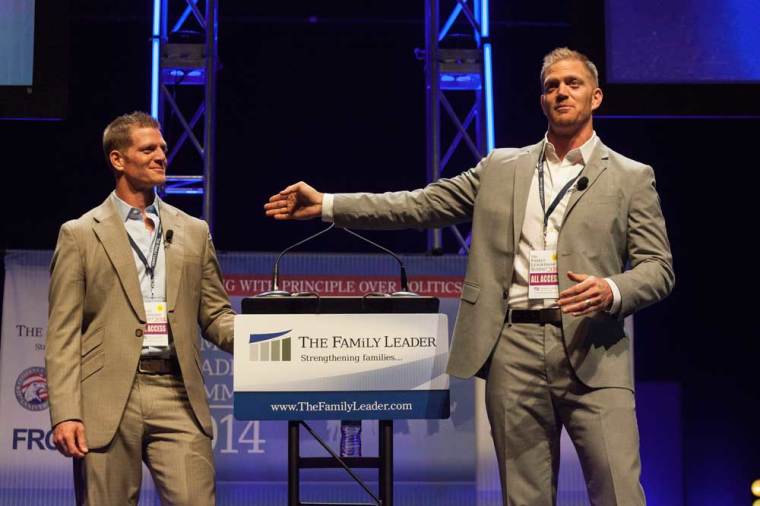 Outspoken Christian real estate entrepreneurs and North Carolina residents Jason and David Benham have spoken out against North Carolina Gov. Pat McCrory's call for the state legislature to repeal the state's highly controversial transgender bathroom law, H.B. 2.
On Monday, it was reported that McCrory called on the state's lawmakers to convene a special session in order to repeal the law, which prohibits local governments from requiring businesses and other places of public accommodation to allow transgender individuals to access bathrooms consistent with their gender identity.
As McCrory defended the bill in the face of national scrutiny and some think that his support of the legislation may have led to his declining favorability rating and defeat in the 2016 gubernatorial election, his call for repeal only comes after the Charlotte City Council voted on Monday to repeal a non-discrimination ordinance that forces businesses to open women's and girls bathrooms to members of the opposite biological sex.
Lawmakers are expected to convene Tuesday to vote on a repeal of H.B. 2.
Although some believe that the repeal of H.B.2 and the repeal of the Charlotte ordinance that prompted H.B. 2's passage in March is a sign of compromise, David Benham told The Christian Post in an email on Tuesday that the repealing of H.B. 2 would be less a compromise and more of a "political shakedown."
The Benham brothers, who are the sons of an evangelical pastor, authors and frequent commenters on politics who have faced national backlash for their traditional view of marriage, have long spoken in support of H.B. 2 and against the Charlotte non-discrimination ordinance.
David Benham told CP that there is no need to repeal the H.B. 2 because state lawmakers have the upperhand over city council members and have already nullified the Charlotte ordinance and any future ordinances like it in the state.
According to Benham, repealing H.B. 2 would be a result of false narrative built up by the Left that the law permits discrimination in the state.
"This is nothing less than a political shakedown by the Left to eliminate a common sense law that protects the safety and privacy of all North Carolinians as well as our rights to live and work in accordance with our beliefs without being punished by the government," Benham wrote.
Benham added that he believes Charlotte City Council's aim in repealing its transgender ordinance is just to inspire the elimination of H.B. 2 in order to enable liberal activists and politicians to launch more "targeted campaigns against religious freedom" by passing similar ordinances to the one in Charlotte.
"The Charlotte City Ordinance doesn't even exist, because H.B. 2 prevented it from taking effect. So there is no ordinance to 'repeal,'" Benham asserted. "How can you repeal something that doesn't need repealing? Clearly, this is just another shakedown built on fake news and false narratives about 'discrimination' in our state. The Left simply needs this law eliminated to begin yet another round of targeted campaigns against religious freedom."
After communicating with CP, the Benham brothers took to their Facebook page to issue video comments on the possible repeal of H.B. 2.
"The Charlotte City Ordinance opened up our bathrooms and declared open season on Christians living out their faith and anybody living out their faith in the marketplace to not participate in sexual expressive events and other things that they don't want to participate in," David Benham said in the video. "They are saying now that if they repeal the ordinance, you have to now repeal House Bill 2. Here is what they are really after. They are after repealing House Bill 2 ... and if you can repeal that, then they can go right back in and enact ordinances all over this state that will open up our bathrooms and our locker rooms to sexual predators."
"This is not an olive branch to just press reset and go back to normal," Benham continued. "Even the Charlotte City Council in their resolution to repeal ... they literally said that they have the right to enact similar ordinances once House Bill 2 is removed."
The Benhams are not the only ones in North Carolina upset with the plans to repeal H.B. 2.
An online petition calling on state lawmakers to stand by H.B. 2 has been launched on KeepMyNCSafe.com and is being supported by the North Carolina Values Coalition, Concerned Women for America, the Christian Action League and the NC Family Policy Council.
"If HB2 is repealed, Charlotte and other cities in North Carolina have indicated they will immediately work with the Human Rights Campaign to enact similar ordinances that jeopardize the privacy and safety of our families and our freedom to live and work according to our deeply held beliefs," the petition states.