Rick, Kay Warren Kept Son's Mental Illness Private for Sake of His Dignity, Grieving Couple Tells Piers Morgan
Warrens Grant First Media Interview Since Suicide of Matthew in April
Pastor Rick Warren and his wife, Kay, said in their first interview with the media since their son's suicide more than five months ago that they knew all along that the day would come when they would become spokespeople for mental illness.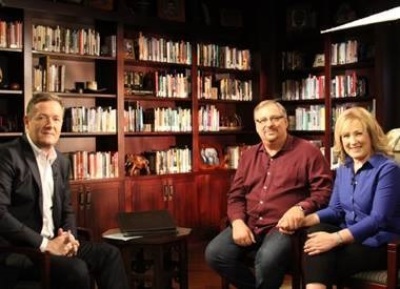 The Warrens told CNN's Piers Morgan during a taped broadcast of his show that aired Tuesday evening that they kept their son's lifelong struggles with mental disease out of the public eye for the sake of his dignity.
In response to Morgan's question about whether he should have done more as "Rick Warren, America's pastor" about the issue of mental health before their son, Matthew, took his life, Warren replied, "We've always known since Matthew has lived his entire life with mental illness that one day we would be spokespeople for mental illness. Kay and I have known this for years and years.
"The reason we were quiet was primarily to protect Matthew's dignity. It was his story to tell," Warren said. "We were always praying that either A, he would be healed miraculously, or B, will get treatment, therapy, medicine that helps him manage his disease for the rest of his life, and then he can tell this story."
Matthew Warren died at the age of 27 from a self-inflicted gunshot wound on April 5. The Warrens, who are the founders of Saddleback Church in Lake Forest, Calif., decided to grant the interview in recognition of National Suicide Prevention Week (Sept. 8-14) and in an effort to help remove the stigma of mental illness.
On the subject of keeping their son's mental illness private, Kay Warren said, "We didn't want him to endure the scrutiny that's being thrown at Rick. He was already struggling. To be in the public spotlight, have people scrutinize him … he didn't need that."
When asked how they would like Matthew to be remembered, Kay Warren said, "…We put on his marker, 'compassionate warrior,' and that pretty much sums him up, his deep compassion."
Warren added, "We've probably received over 30,000 letters of condolences. The letters that have meant most to me were from the people that Matthew had led to faith in Christ. That they are going to be in heaven because of him, and [writing]: 'I know the Lord. I have a relationship with Jesus because of your son over the years.'"
The gut-wrenching interview with Morgan, including tears from the couple during several of their answers, also featured discussion about the several stages of grief.
"I've said almost from the start, that we are devastated, but not destroyed," Kay Warren said. "We are going to survive and someday we'll thrive again. [However], it is the worst thing that could ever happen."
Warren added, "I have cried every single day since Matthew died, but that is actually a good thing. Grief is a good thing, it's the way that we get through the transitions of life. I find that if I don't cry then you're stuck."
The Warrens explained that their son had struggled with thoughts of suicide before and in fact, the night before his death, Kay was trying to talk him out of suicide. She said the couple knew that Mathew had a gun and he had told her that if they called the police that evening that he would take his life instantly.
Kay said she was stuck with the horrible dilemma of having to wait on what would happen with their son. That evening and the next morning, the couple had a premonition that something terrible happened.
In discussion about that night, Warren said, "We had talked him off the edge hundreds of times."
During the show's conclusion, Morgan said it was a privilege and an honor to do the interview and that "my heart goes out to you, it's a heart-breaking story." At which point, Kay Warren said, "There's hope. It's so important that people know that no matter how desperate their despair, there is hope and not to give up."
Last weekend, Warren completed his seven-week sermon series, "How to Get Through What You're Going Through," which began with his return to the pulpit in late July after a four-month sabbatical. Each message in the series focused on the six stages of grief – shock, sorrow, struggle, surrender, sanctification – and finally this last week, "service."
In a sermon entitled, "Never Waste Your Pain," Warren challenged members gathered at the main Saddleback campus and via video in the seven satellite campuses and live streamed on the Internet that, "Our deepest life message often comes out of our deepest pain."
During his sermon, Warren became transparent about the recent pain in his own life since his son's death. "The fellowship of suffering is the deepest of all," he said. "Odds aren't good for a couple who loses a child, as nearly one-third of these marriages end in divorce. But Kay and I give each other a lot of grace, are closer today since Matthew's death, and I am more in love with my wife than ever before."
Archived videos of Warren's sermons at Saddleback Church can be seen at the church's website.
Rick Warren CNN Interview: Son was not afraid to die