Rick Warren Says New Diet Book's Inspiration Came After Baptizing 850 People, Realizing 'We're All Fat' (VIDEO)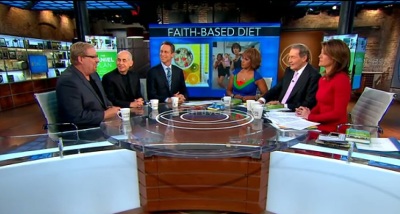 Saddleback Church Pastor Rick Warren said that it was after baptizing 850 church members several years ago that he had a thought that "wasn't very spiritual."
"Goodnight, we are all fat," Warren confessed thinking when he reached his 500th person, on CBS "This Morning" show on Wednesday.
"But then I thought, 'But I'm fat,'" he added.
Warren took his epiphany to his congregation, challenging them to lose weight, and began developing a model to help his congregation successfully keep off the pounds.
The result? A book, "The Daniel Plan: 40 Days to a Healthier Life" which he co-authored with Dr. Daniel Amen and Dr. Mark Hyman, and philosophy that has helped more than 15,000 Saddleback attendees lose close to 250,000 pounds.
Warren said that his plan explores the reasons behind individuals' eating patterns that are not strictly related to food and calories.
"'The Daniel Plan' adds three additional things to the traditional health and fitness program. Most programs deal with food and exercise, but we say human beings are a lot more complex than that," said Warren, who is also the bestselling author of The Purpose Driven Life. "There are emotional reasons why you eat. There are spiritual reasons why you eat. There are mental reasons. So we added faith and focus and friends – or accountability, and changing the way you think and a spiritual motivation."
Following a similar motif to the Warren's previous bestseller, Hyman noted that the "power of the community" was critical in enabling people to achieve their goals.
"That's what we found - people that actually did the program together lost twice as much weight as people who did it alone," Hyman shared on the show. "It was the power of the community. The community was the medicine ... It's powerful to show how they can help each other. They shop together. They cook together - ate together. They exercised together and that accountability - the love factor was what helped people change. "
Warren said that he has struggled to keep his weight down after losing his son Matthew to suicide earlier this year and that he expressed some of his grief by eating.
"First, I was in the hospital for a back problem, so I couldn't exercise for about four months, then I didn't sleep for six months after Mathew died and then I had members that were bringing me food every day in larger quantities than I could possibly eat," he said.
Still, Warren said that when he returned to the program, he was able to recreate some of the initial success he had experienced several years ago.
"When 'The Daniel Plan' started, I immediately lost 65 of the 90 (pounds) I wanted to lose. During the six months after Mathew, I gained about 35 of the 65 because I wasn't exercising and was eating too much. I've lost 30 of that already and I'm back on the program," he said.