Rick Warren: Surrendering to God Is the Ultimate Expression of Faith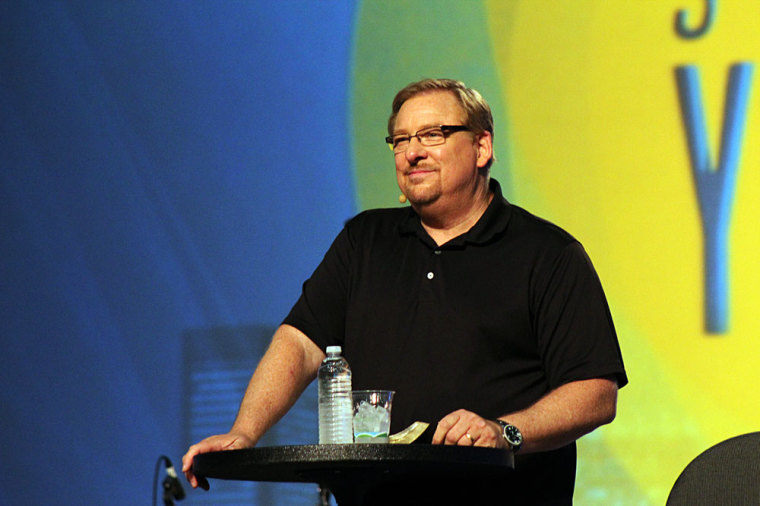 Christians often feel stressed because they have not fully surrendered their life to God, says Pastor Rick Warren, who urges people to read Proverbs 3:5-6 which reads: "Trust in the Lord with all your heart, and do not lean on your own understanding. In all your ways acknowledge Him, and He will make straight your paths."
Warren, senior pastor of the popular Saddleback Church in Orange County, California, explained in his daily devotional on Thursday that there are moments in life when believers struggle to fully surrender to God, whether it be financially or in personal relationships. And this unwillingness to surrender leads to more stress.
"Some of you have not surrendered your relationships to God. 'I know I should forgive that person who hurt me, but I'm not about to forgive them.' That's why you're under stress," the evangelical pastor explains.
"Some of you have a secret sin that you have not surrendered to God. You have a habit that you have not surrendered to God. You have a hurt or a hang up that you have not surrendered to God," Warren continues. "Some of you have never surrendered your life to Jesus Christ. You've never surrendered yourself to be baptized. You haven't found a church family."
"Surrender is holding up the white flag and saying, 'God, the war's off. I'm not going to fight you any more. I want serenity, not stress,'" Warren adds. "Aren't you tired of being at war with God? I would think so. Wave your white flag. Surrender is the ultimate expression of faith."
Warren has dedicated several recent devotionals to the concept of serenity and surrendering to God, writing earlier this week that trying to maintain too much control over one's life breeds unhappiness.
"I don't know what you're going to face this week. You don't, either. But I can already tell you what God wants you to do: Let go, and know. Let go of control, and know that God is in control. Let go, and know! This is the first step to serenity in your life," Warren explained in the devotional.
The megachurch pastor added in his post that a good way for Christians to remember the importance of serenity is to say "the serenity prayer," especially the first eight lines: "Living one day at a time, enjoying one moment at a time, accepting hardship as a pathway to peace, taking as Jesus did this sinful world as it is, not as I would have it; trusting that you will make all things right if I surrender to your will so that I may be reasonably happy in this life and supremely happy with you forever in the next. Amen."