Rick Warren Talks Leadership Traps, Handling 'Haters and Critics' at Hillsong Conference
Saddleback Church Pastor Talks With Brian Houston at Annual Event in Australia
Saddleback Church Pastor Rick Warren, unable to attend the Hillsong Conference in Australia in person this year, shared via Skype with Pastor Brian Houston his advice for young leaders involved in Christian ministry, as well as how he personally deals with criticism.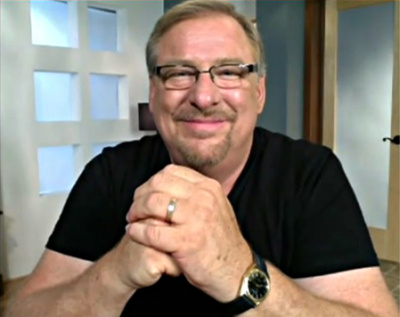 The Southern California megachurch pastor was asked by Houston, founder and senior pastor of Hillsong Church and visionary behind the annual Hillsong Conference, to share the main three or four things he would tell a young leader, considering the influence he has through his international church plants and global initiatives.
First on Warren's list was the suggestion to "never stop learning." The 59-year-old evangelical Christian leader insisted that one should "never stop asking questions" and that a leader can learn from anyone if he or she asks the right questions.
Second, he advised leaders against comparing themselves to others. "This is the number one trap of Christian leaders today," said Warren.
"The Bible tells us in Corinthians that it's foolish to compare ourselves … because (we're) always going to have one or two problems: you can always find someone who's doing a better job and you get discouraged, or you find someone (who you're doing a better job than) and you're full of pride."
"God didn't call you to be somebody else," Warren added.
Third on his list of advice for young leaders was to "never doubt God."
The bestselling author told those in the audience watching his interaction with Houston that "God uses people who expect Him to use them."
Warren shared of his own personal view, "I expect God to use me, not because of who I am but because of who Jesus is. Not because of what I've done, but because of what Jesus has done."
"God uses people who believe Him," he repeated, adding that "God does not respond to our complaints, God responds to our trust."
That particular remark from Warren on trusting God seemed to resonate the most with those discussing the 2013 Hillsong Conference on social media, with @Hillsong's tweet of the remark being retweeted and saved as a favorite by hundreds of Twitter users.
Warren's final bit of advice, to "never give up," was not discussed in detail before Houston then turned to the issue of how the minister deals with "haters and critics."
"Someone with your influence even in secular America, let alone the Church, and of course you always develop critics … not everyone loves what we're about. Most pastors have to deal with both accolade and criticism," said Houston, describing such attention as "character tests."
"It's probably the number one question I get asked by church pastors and leaders," admitted Warren.
He noted that once upon a time in America, critics didn't have much of a voice. Warren suggested that perhaps a critic could write a letter of complaint that might end up in the Sunday paper, or instead lining the litter box.
"Today, because of the Internet, all criticism is permanent, global and searchable," stated Warren.
He cautioned against leaders living in fear of criticism, saying, "If you build your life on fear of man, God can't use you."
Suggesting that "both praise and criticism are like chewing gum," Warren insisted that those working in the spotlight should "chew on it, but you don't swallow it."
Warren, who has been the subject of criticism, even over the suicide of his youngest son, Matthew Warren, told the Hillsong Conference audience: "As you're running your race, there'll be people both cheering and jeering you."
He advised that if the criticism is true, leaders should listen and learn from it. If it is untrue, ignore it, he added.
Noting that people in his position require a "tender heart and a tough skin," Warren reminded young leaders that they cannot let criticism bother them — "keep your eyes on Jesus (and) live for an audience of one," he admonished. "You cannot follow God's voice while you're listening to the voice of others."
In May, during his first appearance at Saddelback Church since the April 5 death of his 27-year-old son, it was revealed that Warren would be "taking a sabbatical from all media requests and church responsibilities through at least August." Although not discussed, his sabbatical may be the reason for Warren's decision to not attend the Hillsong Conference in Sydney as he has in previous years.
Houston offered his condolences to the Warrens, telling the pastor that the people of Hillsong's "hearts are one hundred percent with you. You're loved."
Similar to what he said in May to members of the Lake Forest, Calif., congregation he founded more than 30 years ago and those attending satellite campuses in Orange and Riverside counties, Warren told Houston on Monday, "Grief doesn't destroy you and grief doesn't define you, but it does reveal who you are. It will draw you closer to God …"
Warren shared that in his time of grief, he has been drawing closer to Jesus. "And actually," he added, "I've been coming out of this feeling pretty fearless."
The 2013 Hillsong Conference is scheduled to run from July 1-5 at the Allphones Arena in Sydney, Australia, with the stated purpose of "(setting) out to champion the cause of local churches everywhere."
Among those expected to make an appearance are Bishop T.D. Jakes of The Potter's House, Joel and Victoria Osteen of Lakewood Church, Craig Groeschel of Lifechurch.tv and Judah Smith of The City Church. Performers include Kari Jobe and Leeland.
Web users can view the conference live at: http://backstage.hillsongconference.com.