Rick Warren on Importance of National Prayer Breakfast Following Divisive Election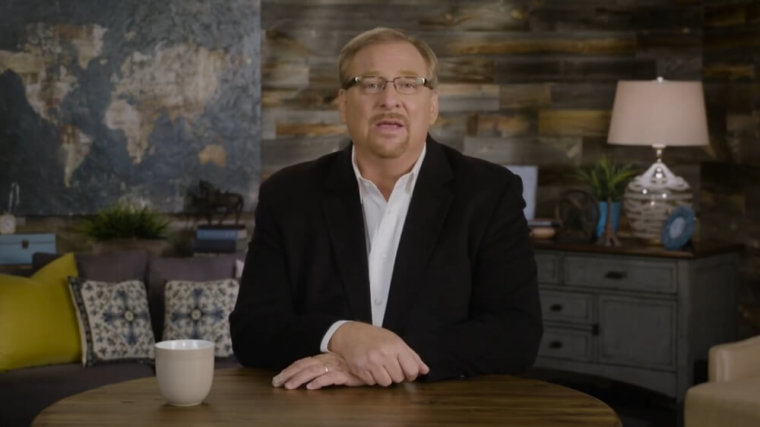 Pastor Rick Warren of Saddleback Church in California will be speaking at an event Thursday night following the National Prayer Breakfast in Washington, D.C., and says he believes the annual event is particularly important this year as America has become divided following the presidential election.
"It is actually a bipartisan prayer breakfast, they always have one Republican senator and one Democratic senator who are the co-chairs," Warren said in a Facebook video.
"I think it is an important thing, particularly right now, after this last election and campaigning, which has really divided America," the pastor said.
President Donald Trump defeated his Democratic rival Hillary Clinton in the election race on Nov. 8, and has since faced numerous large-scale protests on issues of women's and civil rights, refugees, and others.
Warren, who delivered the invocation when Barack Obama first became president in January 2009, pointed out that Christians are called in the Bible to be peacemakers.
"Blessed are the peacemakers for they shall be called the children of God," he said, recalling Jesus Christ's words in the Sermon on the Mount, as found in the Gospel of Matthew.
"Everybody wants to have peace, but who wants to make peace? Who wants to bring peace? Well, as Christians, we are called to do that," the Saddleback Church leader emphasized.
"The Bible says that God has given us the ministry of reconciliation, which means we are to bring people of opposite sides together. That's what Christ did, He brought us unto himself, unto God, even though we were His enemies."
Other prominent American evangelists, such as the Rev. Franklin Graham, have argued that it was not Trump who divided America, and have also called for unity.
"This country has been divided for a long time," Graham told Fox News in an interview before the inauguration ceremony in January. "Politicians need to drop their inauguration boycott plans and show unity."
Graham added: "We need to go beyond politics and come together in prayer. Democrats and Republicans have to work together and make choices for the good of the nation."
During last years' National Prayer Breakfast, former President Barack Obama spoke about the nature of fear and Christ's power over death.
"My faith tells me that I need not fear death. That the acceptance of Christ promises everlasting life and the washing away of sins," Obama said at the time.
"Faith is the great cure for fear. Jesus is a good cure for fear. God gives believers the power, the love, the sound mind required to conquer any fear."