Rihanna's New Cross Tattoo Prompts Illuminati Speculation (PHOTO)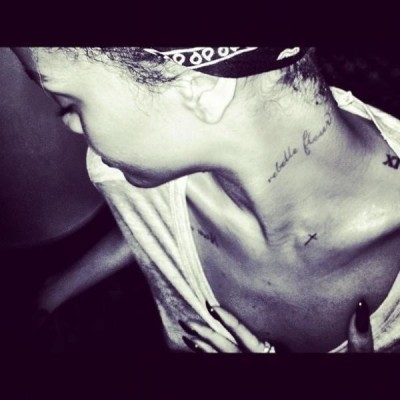 Rihanna has again sparked public outrage after photos of her controversial new slanted cross tattoo were posted on Twitter, and some critics suspect that the unusual cross symbolizes godlessness and ties to the Illuminati.
The 24-year-old "We Found Love" singer had the tattoo done by a renowned tattoo artist known as "Bang Bang," who recently explained the ink.
"We did a very fine small cross directly on her collarbone. [Rihanna] said her cross meant a lot to her and she totally loved it!" Bang Bang told The Daily Mirror.
Rihanna, who currently has 15 tattoos, is accused of adopting the slanted cross from ancient Freemasons who are often linked to the Illuminanti, an elitist group which critics believe possesses more social control than the world's greatest political leaders, according to MediaTakeOut.
Freemasons, who many believe heavily influence society, once used the slanted cross depicted with a crown around it as a symbol of their beliefs.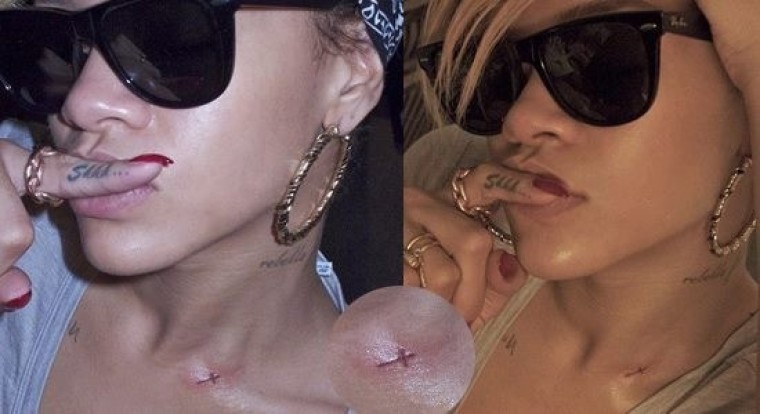 While many religious groups including Christians use vertical crosses as a symbol of faith, Rihanna's tattoo is deliberately slanted which has led to criticisms and speculation about the singer's own faith.
This is not the first time that Bajan singer has prompted speculation about whether or not she is religious; just last month she tweeted messages which suggested she was battling demons.
"F--- YOU SATAN. F--- right off!!!" Rihanna randomly tweeted in February.
Many critics, including R&B singer Omarion, have spoken out about what some believe is ongoing proof of Rihanna's sense of godlessness.
"I don't personally know Rihanna's beliefs but I think there's a very dark and very sinister part of the entertainment business and I think it's very visible. I don't know if Rihanna [has fallen victim to those pressures]," Omarion said in a 2009 interview with The Boombox.
"I've never really heard her speak about it. I hope that she doesn't believe in that stuff and I don't think that she does, but I don't know," said the singer, whose real name is Omari Ishmael Grandberry.