Riley Gaines won't let hatred infect her, says she's 'not anti-trans' but pro-fairness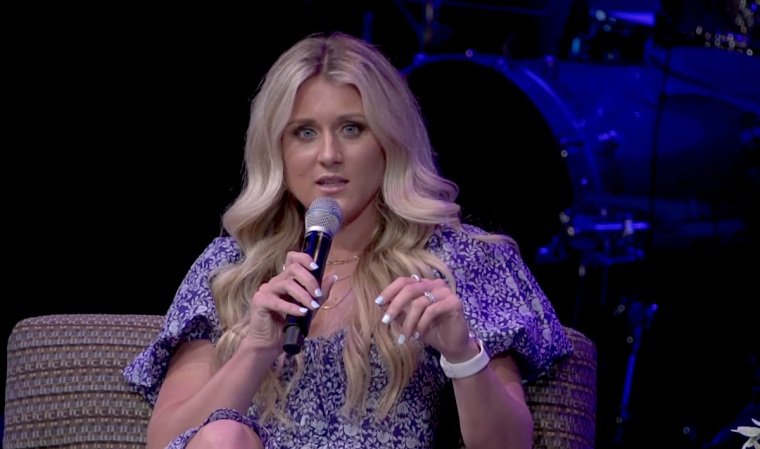 All-American swimmer Riley Gaines Barker is an outspoken activist for women's equality in sports and has not let hatred corrupt her heart despite the frightening moments she's experienced for her activism. 
Barker has made headlines in recent years for openly opposing biological men competing in women's sports. The swimmer gained media attention after she tied with Lia (Will) Thomas, a biologically male swimmer who identifies as female, for fifth place in a 200-yard freestyle at the 2022 NCAA Women's Championships.
As she has gained national attention for speaking out per her convictions, the professing Christian told The Christian Post in an interview that her activism is not motivated by hatred but rather by fairness. 
"This is not anti-anything. It's not anti-trans; no one is being banned from playing sports. That's a false narrative being pushed," Barker said.
"This is pro-woman, it's pro-fairness, it's pro-truth, but it's not anti-anything," she declared. "I'll be the first one to say I think everyone should play sports regardless of who you are, your sexual orientation, your gender identity, your race, whatever sport you play, everyone should play sports. I actually encourage people to play sports."
The 12-time All-American competed for the University of Kentucky, where she was a five-time Southeastern Conference champion. She knows firsthand the benefit there is to playing sports. She does not want to take that away from anyone.
"It's just about ensuring everyone plays where it's fair and where it's safe. And I don't understand how that is overly controversial. I just don't. Everyone should play sports where it's fair and where it's safe. That's what I'm advocating for," she reiterated. 
Earlier this month, Barker, who has been swimming since she was 4 years old, attended the ceremonial signing of a women's sports bill in Texas. Texas Gov. Greg Abbott signed the "Save Women's Sports Act" to protect women who the governor says are "being forced to play against biological men."
After the event, Barker said she was met by protesters. 
"[They] were spitting on us. They were yelling profanities. They were throwing bottles and spilling drinks pouring drinks on us," Barker said. 
"These people, they're throwing temper tantrums. It's like they've never been told no before. These are grown adults."
The 2022 SEC women's swimming and diving scholar-athlete of the year maintained that "everyone needs prayer." 
"This is how I know there's no hatred in my heart because when these protesters were doing this, we immediately took to prayer and prayed for them," Barker revealed. "[We] prayed to God that He would open their eyes, open their hearts to allow Him in. We all need that prayer. Including myself!"
"We are humans. No one is perfect, but what we're up against is its sheer vitriol. It is vengeance. It is violent, and it's really soullessness, and I've seen it firsthand," she maintained. 
The young activist said she holds on to a Bible verse that has directly and intimately helped her when she faces the backlash. She cited Romans 8:18, which says: "For our present sufferings aren't worth comparing to the glory that will be revealed in us." 
"I actually always loved this verse. When I was younger, I very much applied it to swimming, to be totally frank, because 'Our present sufferings' I would compare that to practices and to training, but it wasn't worth comparing to the glory that would be revealed when you won a race.
"But now in my life, that same verse is so so applicable, 'Our present sufferings,' and they are sufferings — with the name calling with the toll, both the physical and the emotional toll that this battle takes on you, on your marriage, on your life," Barker added. "It is suffering, but it is so worth it. When you compare that to the glory that will be revealed when you win, and of course that's referring to this our time on this earth, but it's bigger than that to that glory will be revealed when the end times come."
"Our time on this earth ... it's a blink of an eye. As humans as Christians, we should be doing everything we can to live a Christ-like life and to spend eternity in Heaven," Barker said.
In June, the 23-year-old testified during a U.S. Senate Judiciary Committee hearing titled "Protecting Pride: Defending the Civil Rights of LGBTQ+ Americans."
She testified of some of her experiences while competing against Lia (Will) Thomas during last year's NCAA championships.
She recalled how Thomas beat multiple female swimmers, and when Barker tied with Thomas for fifth place in the 200-yard freestyle race, the NCAA told Barker she would have to go home "empty-handed" because Thomas needed the trophy for a photo op. 
Barker noted how when Thomas competed as a male, he ranked 462nd in the country. But when competing against females, Thomas became an All-American. 
"I asked the question that no one dared to ask all season. Why does this trophy have to go to the male in the women's 200-yard freestyle?" Barker recalled. "I appreciated the honesty because the official looked at me and said, 'Well, we've been advised when pictures are being taken that Lia has to have the trophy.' ... Once they had reduced everything we had worked our entire lives for down to a photo-op to validate the feelings and identity of a male, that's when I knew I couldn't be happy with myself continuing to be silent. I knew this would affect others and it is. I said I was no longer willing to lie." 
Upon graduation, Barker had intentions of going to dental school. She even put a deposit down and accepted a seat in a dental program. 
"God laughed in my face when He saw these plans that I had made for myself because He had different plans for me," she said. "I'm certain that God has his hand on this. ... Every day, it feels more and more clearly that this battle is spiritual." 
She also objected that the NCAA forced her and her fellow female athletes to share a locker room with Thomas, describing him as a six-foot, two-inch, 22-year-old male "equipped with and exposing male genitalia."
Barker has faced great opposition since speaking out in the media and at political conferences. 
"I've been called every name in the book," she told CP. "You get labeled as transphobic. You get labeled as homophobic, racist, white supremacist, domestic terrorists, fascists. The names they will call you are so far-fetched, but they will label you anything that they can. This was hard at first. No one wants to be called those things, especially when you know in your heart, you're not doing this out of hatred." 
The name-calling did not divert Barker from her mission. 
"They can't dissuade from what I'm actually saying, what I'm actually advocating for and that's because we have common sense on our side," she asserted. "That's because we have logic and reasoning and science and truth on our side, and that's why they resort to name-calling. That's why they resort to violence." 
Barker recalled being assaulted during a recent trip to San Francisco State University.
"I was held for ransom for over three and a half hours where these protesters were demanding that I had to pay them money if I wanted to make it home to see my family safely again," she claimed. 
"Let me reiterate that for sharing my lived experience and saying that men and women are different from each other, that was what resulted in me being kidnapped," the activist added.
Despite her experiences, she hopes things will change in sports.
World Aquatics, the international governing body of swimming, announced in July that it will move forward with plans to create a third category in the competitions. Barker said that there have been talks of having the women's category remain solely for females and creating an additional open category, so men can compete in the open and anyone who doesn't fit the female category.