Robert Jeffress Clarifies Inaugural Prayer Service Sermon on Nehemiah's Wall Building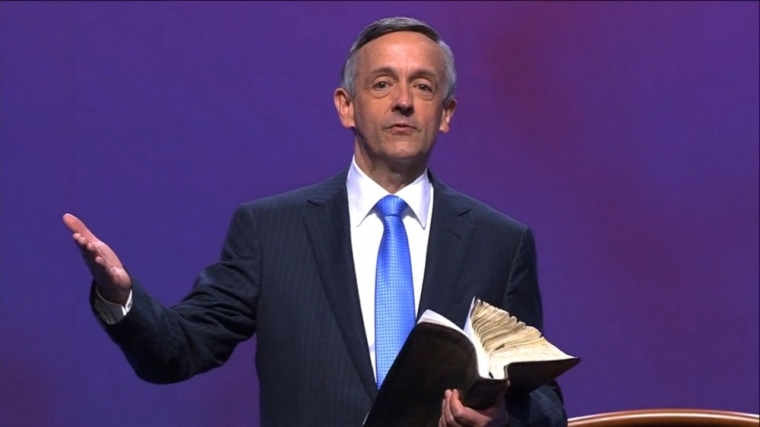 WASHINGTON — Dallas megachurch pastor Robert Jeffress offered clarification on his inauguration morning sermon, delivered in front of President Donald Trump and Vice President Mike Pence, in which he suggested that "God is not against building walls."
In an exclusive post-inauguration interview with The Christian Post Friday night, Jeffress explained that the point of his sermon was not so much about building walls but rather that God blessed Nehemiah, a builder, to be governor of Judah for a "unique" purpose.
"I know the liberals would love to take it out of context. But look, the point was God was the one who raised up Nehemiah, who was not a politician, who wasn't a priest, who was a builder, and gave him a job to do," Jeffress explained. "There is nothing unbiblical about building a wall and protecting citizens. What I concentrated on in my message to Mr. Trump and Mr. Pence and their cabinet was the fact that God blessed Nehemiah for some unique reasons. That is what the center of my message was, not just the wall."
Jeffress, the senior pastor at First Baptist Dallas, gave the sermon at St. John's Episcopal Church across the street from the White House hours before Trump was sworn in as the 45th president of the United States. The pastor quoted the Old Testament account of Nehemiah's rebuilding of the walls of Jerusalem to prevent enemy attacks.
The remarks have captured numerous headlines, considering the incoming president has stated that he would boldly build a wall on the southern border of the United States.
Jeffress, a Trump evangelical advisory board member, also attended the Faith, Freedom, and Future Inaugural Ball sponsored by a number of conservative Christian organizations at the Hyatt Regency in Capitol Hill. The aim of the ball was to celebrate the future of religious freedom under a conservative majority in Congress and the election of Trump.
"This won't just be the beginning of a great new administration, it will be the beginning of spiritual revival in our country of people turning back to God," Jeffress, who was one of the first evangelical leaders to campaign with Trump shortly after he launched his campaign in 2015, told CP.
"I think the great irony of history will be that it was a secular billionaire from New York who turned out the be the most faith-friendly president in history."
As many conservative Christians were fearful that liberal pro-LGBT and pro-abortion laws would increasingly impact their freedom to live in accordance with their faith without fear of government consequence if Democratic nominee Hillary Clinton was elected, Jeffress asserted that Trump's presidency has offered the nation a "reprieve" from such federal policies.
"Remember, it wasn't that long ago in Russia that the liberty window was open and people were going to be free to share their faith but then the window started to close again under Putin. I think the same thing is happening here," Jeffress contended. "We have been given a reprieve and it is time for the Church to maximize opportunity while we still have it. I think long-term, post-Trump, the trend is still toward marginalization of Christians, not only in the country, but in the world."
David Barton, a conservative Christian activist and founder of the Texas-based WallBuilders LLC, issued similar thoughts when he told the ballroom that the "decline in the culture" has not been reversed.
"What has happened with this election is that we have not reversed the decline in the culture but we have hit the pause button," Barton stated. "While we expect the president and Congress to do some impressive things, we have to as well."
With Trump vowing in his campaign to protect religious freedom, appoint conservative and pro-life judges and defund Planned Parenthood, Jeffress assured CP that Trump plans to "move forward" with his campaign promises.
"I met with him two weeks ago in Trump Tower and I can tell you that he is moving forward in fulfilling those promises," Jeffress said.
Jeffress said he is encouraged that Trump will continue to seek the guidance of Christian leaders, noting that the president plans to keep his evangelical advisory board intact following his inauguration.
Other members of the board include Bishop Harry Jackson, televangelist Paula White, former Southern Baptist Convention presidents Jack Graham and Ronnie Floyd and former president of the SBC's Ethics & Religious Liberty Commission, Richard Land.
"In the long run, the government can't bring revival, only the Church can do that," Jeffress stated. "But government can keep us safe and protect our freedoms. I believe that the Trump administration will do that."