Robert Jeffress Defends Trump's Mental Health: He Won Election Because 'He Isn't Normal'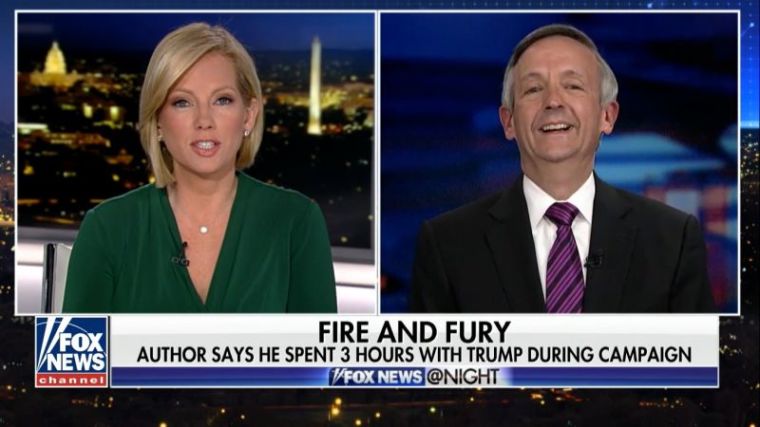 Pastor Robert Jeffress of First Baptist Church in Dallas, Texas, decried and laughed at claims made in relation to the Fire and Fury: Inside the Trump White House book that suggest President Donald Trump is falling apart and is mentally unfit for office.
"If there is a kernel of truth in this book, it is the charge that President Trump is not 'normal.' He isn't normal, which is why the American people put him in office to begin with," Jeffress told Fox News host Shannon Bream on Friday, specifically in response to a dozen of lawmakers reportedly receiving a briefing from Yale psychiatrist worried about Trump's mental state.
"The American people were tired of a normal that said we ought to accept sub-par economic growth, that we ought to accept ISIS as continuing reality, that our best days were behind us," he added.
"More and more Americans are grateful that the president isn't 'normal' and has established a new normal for America."
Michael Wolff's book, an instant bestseller hit, claims to be made of interviews with people close to Trump inside the White House, with the author suggesting that "100 percent of the people around him" believe Trump is unfit for office.
What is more, Fire and Fury suggests that Trump and his wife, Melania, were horrified when they found out on Election Day in November 2016 in the Trump Tower in Manhattan that Trump was to be president, and their lives were to drastically change.
Jeffress, who said that he was with the Trumps on Election Day, told Fox News that he saw no such thing, and that they were "relaxed and optimistic."
"Admittedly, I didn't spend all day with the Trumps," the megachurch pastor added.
"I didn't spend most of the day with the Trumps, but I spent more time with the Trumps than Michael Wolff did, and I can tell you, that's just an inaccurate portrayal."
He insisted that he has never heard Trump saying that he regrets winning the presidency, and shared of instances where the president has demonstrated that he has a strong memory.
"[Trump] said over and over that if he didn't win, this whole exercise was absolutely futile, and so it's a completely fictitious notion that he didn't want to win," Jeffress insisted.
What is more, the pastor said that while Wolff claims to have spent three hours over 18 months with Trump while writing the book, he spent more time with the president at various events just two weeks ago.
Jeffress, who has strongly backed the president on a number of positions, argued that the various criticism of Trump found in the book have "no basis in reality."
Trump himself has hit back hard against the book, calling Wolff a "fraud," and rejecting any notion that he is mentally unstable.
"I went to the best colleges, I had a situation where I was a very excellent student, came out and made billions and billions of dollars, became one of the top business people, went to television and for 10 years was a tremendous success, as you probably have heard," he told reporters on Saturday.
And on Twitter, where the president is highly active, he wrote that his greatest assets "have been mental stability and being, like, really smart."
He continued: "I went from VERY successful businessman, to top T.V. Star---to President of the United States (on my first try). I think that would qualify as not smart, but genius....and a very stable genius at that!"
Watch Jeffress' interview with Fox News below: