Robert V. Finley, evangelist and notable champion of foreign missions, dies at 96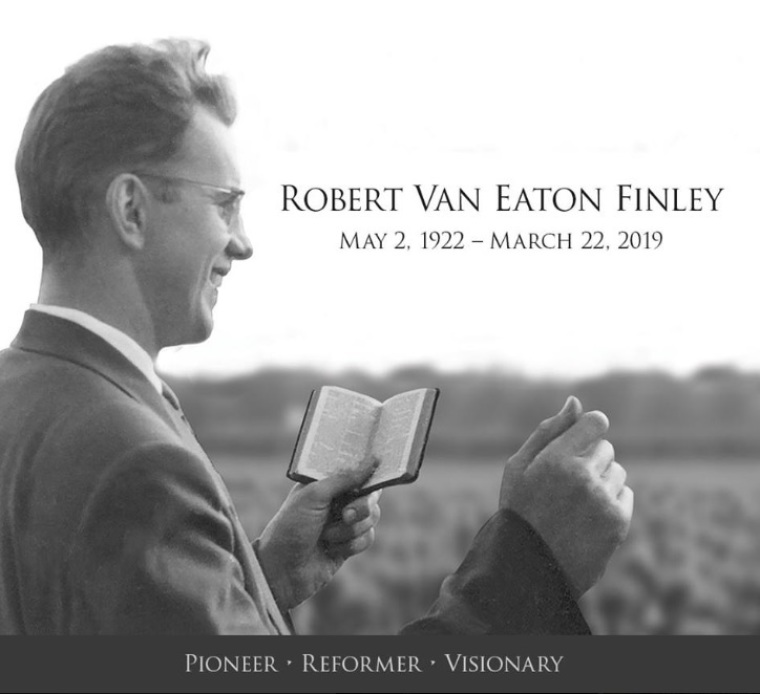 Robert Van Eaton Finley, an evangelist who founded the prominent foreign missions organization Christian Aid Mission, passed away at age 96.
The Charlottesville, Virginia-based Christian Aid Mission released a statement on Friday confirming the death of their founder.
"Finley is fondly remembered by missionaries worldwide for his life and work, his books, articles, and his teaching. He believed that it is the supreme responsibility of the disciples of our Lord Jesus Christ to plant and build His church among all nations," stated the organization.
Resham Raj Poudel, the leader of an indigenous ministry in Nepal, was quoted in the statement as noting that one of the things he liked about Finley's work was "that he trusts us."
"Christian Aid Mission is the first ministry I know to support independent gospel ministries with prayer and finances to help them fulfill their work," stated Poudel.
"This made it possible for us to grow in the vision that the Lord has given us. The result is that many churches are being planted around the world."
A native of Albemarle County, Virginia, Finley became an evangelist for Youth for Christ and InterVarsity Christian Fellowship soon after graduating from the University of Virginia in 1944.
During the late 1940s and early 1950s, Finley preached at dozens of schools and hundreds of churches both in the United States and abroad, and had shared stages with the Reverend Billy Graham.
In 1953, Finley founded International Students, Inc., from which the Assisting Indigenous Developments division, later renamed Christian Aid Mission, came from. Finley also founded the Overseas Students Mission.
Finley's missionary work focused on indigenous populations abroad, drawing from the evangelist's experiences preaching in Asia.
"The example of the Apostle Paul stood out to me," stated Finley in comments posted on Christian Aid Mission's website.
"He left his native Cilicia and went as a foreign student at the feet of Gamaliel in Jerusalem. While there God called him to return to Asia as an apostle to his own people. As I read more about missionaries in the Bible, I noticed they were nearly all native to the people they reached."
Finley is survived by his wife, Cynthia Finley, two daughters, Deborah Finley Arcieri and Ruth Finley Cassidy, three grandchildren, one great-grandchild, and two sisters.