Romney Accepts GOP Nomination; Vows to Protect Life, Honor Institution of Marriage
Years after Mitt Romney set his sights on being president of the United States, the former Massachusetts governor officially accepted on Thursday the 2012 Republican nomination in a packed convention center in Tampa, Fla., vowing to protect life, honor traditional marriage and protect religion.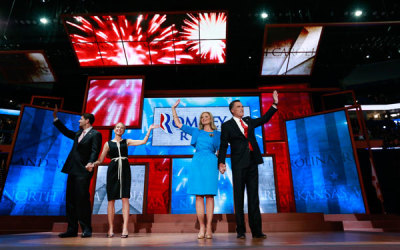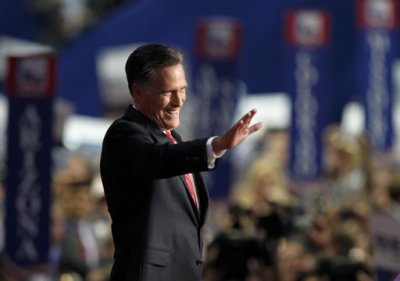 "As president, I will protect the sanctity of life. I will honor the institution of marriage. And I will guarantee America's first liberty: the freedom of religion," Romney said in his acceptance speech.
After Sen. Marco Rubio of Florida formally introduced him, Romney made his way to the stage walking from an entrance as if he were about to deliver a state of the union speech. Shaking hands with supporters along the way, he received a good-luck peck on the cheek from Arizona Gov. Jan Brewer.
What both critics and supporters wanted to see from the new nominee was a personal side that eludes him when he is addressing larger groups. On two occasions, he mentioned personal stories. Once he spoke about the love between his parents and on another occasion, he fought back tears as he talked about how he and his wife Ann missed breaking up squabbles between their five boys.
Romney began seeking the White House soon after serving his first and only term as governor of Massachusetts. After losing in the primary to Arizona Sen. John McCain in 2008, who ultimately was defeated by then Sen. Barack Obama, he told of waiting patiently along with the rest of the country for the new administration to restore some economic stability to the nation.
"I wish President Obama had succeeded because I want America to succeed. But his promises gave way to disappointment and division," said Romney. "This isn't something we have to accept. Now is the moment when we CAN do something. With your help we will do something. … We deserve better."
The new nominee also broached an issue that garnered much attention during the hard-fought GOP primary and one that is rarely discussed by Romney – his Mormon religion. He talked of being raised in church by his parents in Michigan, surrounded by a small minority of Mormons.
"We were Mormons and growing up in Michigan; that might have seemed unusual or out of place but I really don't remember it that way," he recalled. "My friends cared more about what sports teams we followed than what church we went to."
Part of the theme of this year's GOP convention was diversity. By the time the gavel sounded to end the convention, over 14 women, including South Carolina Gov. Nikki Haley and former Sec. of State Condoleezza Rice, took the stage to promote the person they believe will be the country's next president. Romney noted that when he ran for office in Massachusetts that he chose a woman lieutenant governor and also appointed a female chief of staff. He promised his cabinet would be just as diverse with women and other minorities serving in key positions.
Toward the end of his speech, Romney delivered what he knew those watching wanted to hear and that is how he would bring a better life to Americans, many of whom have experienced economic hardships in one way or another during the Obama administration.
Romney brought up the fact that at age 37 he started a company from scratch that helped bring jobs to thousands of people and gave such companies as Sports Authority (a favorite of his five sons) and Staples a chance to grow and prosper.
What he promised in his first term if elected was jobs.
"Now is the time to restore the Promise of America. Many Americans have given up on this president but they haven't ever thought about giving up. Not on themselves. Not on each other. And not on America," said Romney.
"What is needed in our country today is not complicated or profound. It doesn't take a special government commission to tell us what America needs. What America needs are jobs. Lots of jobs."
Giving some insight in what he and his vice presidential nominee Paul Ryan plan to deliver, Romney talked of giving American energy independence by taking full advantage of the coal, gas and oil reserves the nation has.
Second, he talked of improving educational opportunities by expanding school choice. Next, he talked of forging new trade agreements and reducing the nation's expanding deficit by trying to balance the budget. And finally, he promised to champion small business.
"And let me make this very clear – unlike President Obama," he continued. "I will not raise taxes on the middle class."
Romney and Ryan will leave Tampa today and fly to the key swing state of Ohio in one of their first campaign appearances after the convention.
In the latest Rasmussen poll, both Romney and Obama were tied, each with 45 percent support from those surveyed.
READ: REGARDING HOMOSEXUALITY - BE NOT AFRAID