Russell Brand denies sexual assault allegations, warns of 'serious, concerted agenda' after YouTube ban
'I was very, very promiscuous' but affairs were 'always consensual,' actor says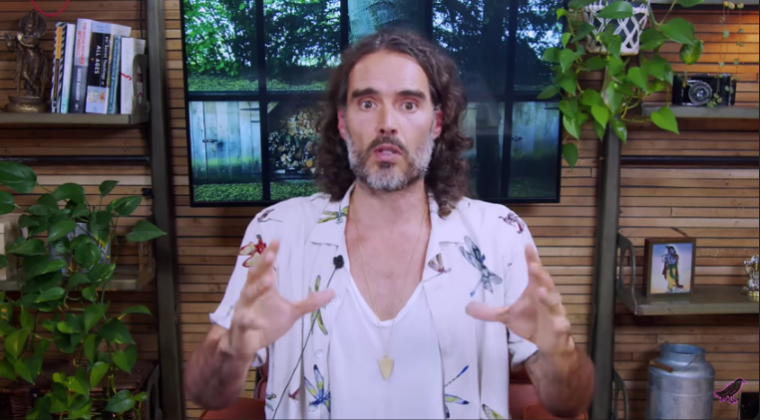 Actor and comedian Russell Brand has been suspended from earning income on his YouTube channel following reports of sexual assault allegations and warnings from his audience that he might be sharing too much "truth."
The 48-year-old Brand, who has over 6.6 million subscribers on YouTube, was suspended after purportedly violating the platform's "creator responsibility policy," the New York Times reported Tuesday. 
The suspension came after several British media outlets, The Times, Sunday Times and Channel 4 Dispatches, published allegations of sexual assault and "emotional abuse" from five alleged victims — including four of whom were anonymous — during the height of his movie career from 2006 to 2013.
One report from The Sunday Times alleged Brand assaulted a then-16-year-old girl — who was over the age of consent in the U.K. — during a brief "emotionally and sexually abusive" relationship, while another victim told The Times that Brand raped her at his Los Angeles home in 2012.
In what ultimately was his last YouTube video before the suspension, Brand denied the allegations, saying they "pertain to the time when I was working in the mainstream media, when I was in the newspapers all the time, when I was in the movies. And as I've written about extensively in my books, I was very, very promiscuous. 
"Now, during that time of promiscuity, the relationships I had were absolutely always consensual," he added. "I was always transparent about that then, almost too transparent, and I'm being transparent about it now as well."
In the video, Brand said he received two "extremely disturbing" notes from an unidentified corporate media TV company" and a newspaper listing what he called "a litany of extremely egregious and aggressive attacks as well as some pretty stupid stuff," including that he "shouldn't be able to attack mainstream media narratives."
While acknowledging the allegations were "very serious," Brand added that he's concerned that what he described as "coordinated media attacks" closely resembled, for example, the media backlash to podcaster Joe Rogan's comments about the drug ivermectin as a treatment for COVID-19. 
He also pointed to a number of corporate media articles painting Brand as a "conspiracy theorist" for speaking out about the potential health risks linked to some of the coronavirus injections.
"I know that a year ago there was a spate of articles, 'Russell Brand's a conspiracy theorist,' 'Russell Brand's right-wing,'" he said. "I'm aware of news media making phone calls, sending letters to people I know for ages and ages.
"It's been clear to me or at least it feels to me like there's a serious and concerted agenda to control these kind of spaces and these kind of voices, and I mean my voice along with your voice."
Brand's recent YouTube offerings include an interview with former Fox News host Tucker Carlson, in which the two discussed corporate media "rhetoric," along with videos on Bill Gates, former President Barack Obama, the COVID-19 lockdowns, Ukraine, and the Hawaii wildfires.
Despite his recent suspension from YouTube, Brand maintains a healthy presence on alternative video hosting site Rumble with about 1.4 million followers. The actor also has another nearly 15 million followers on X and Instagram.
In response to the allegations, members of the British Parliament have launched an effort to persuade platforms to demonetize Brand's accounts.
Caroline Dinenage, chair of the Culture, Media and Sport Committee, wrote a letter to TikTok's Director of Government Relations, Theo Bertram, asking whether Brand still has the ability to monetize his posts on TikTok and whether any "procedures are in place to ensure creators cannot undermine the welfare of victims."
Dinenage's letter also appeared to acknowledge that Brand was not in violation of any of TikTok's policies: "While we recognize that TikTok is not the creator of the content published by Mr. Brand, and his content may be within the Community Guidelines set out by the platform, we are concerned that he may be able to profit from his content on [TikTok]."
Despite calls for Rumble to follow YouTube's lead, CEO Chris Pavlovski issued a statement Wednesday rejecting those calls and criticizing Parliament's actions.
"Just yesterday, YouTube announced that, based solely on these media accusations, it was barring Mr. Brand from monetizing his video content. Rumble stands for very different values. We have devoted ourselves to the vital cause of defending a free internet — meaning an internet where no one arbitrarily dictates which ideas can or cannot be heard, or which citizens may or may not be entitled to a platform," he wrote.
"We regard it as deeply inappropriate and dangerous that the UK Parliament would attempt to control who is allowed to speak on our platform or to earn a living from doing so," Pavlovski added.
While gaining a reputation early in his career for vulgarity and crude humor, Brand said in a 2018 interview that he believes "the teachings of Christ are more relevant now than they've ever been."
It's a dramatic change of heart for Brand, who once said he believed the Bible was more of a symbolic text than the divine Word of God and was even rumored to have a "messiah complex."
"Have you considered that the Bible, like all religious doctrine, may be allegorical and symbolic to direct us towards one holy entity of love as opposed to a specific … text to direct the behavior of human beings?" Brand said on his show in 2012. "The Bible wasn't specifically written by a cosmic entity! It was written by people! The Holy Spirit ain't got a pen!"