Russell Wilson Glorifies God After Super Bowl LI Dreams Are Dashed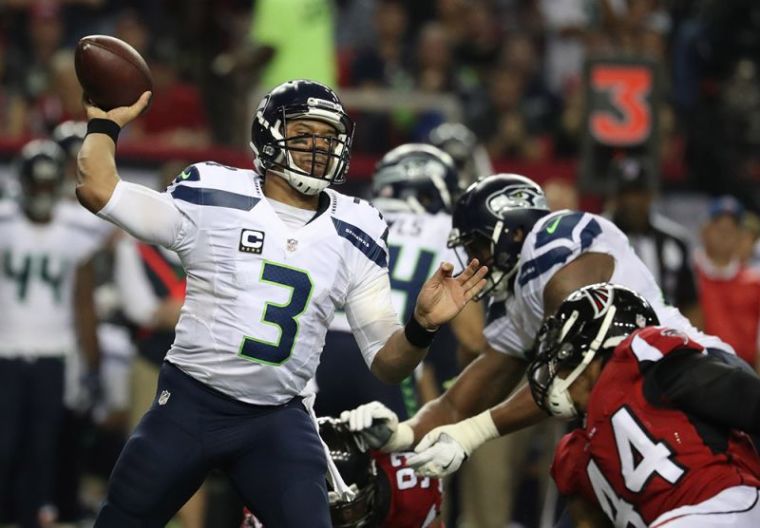 Russell Wilson's dreams of playing in Super Bowl LI were dashed when his Seattle Seahawks lost against the Atlanta Falcons on Saturday, but the quarterback is making it clear that he still has great reasons to praise Jesus.
Wilson, the 28-year-old quarterback who married R&B singer Ciara last year, glorified God while celebrating his family after the season-ending loss. According to the NFL star, the outcome of the game didn't determine whether he was a winner or not.
"I will forever win (because) I get to come home to you every night," Wilson wrote in a message to his wife. "The love of my life. I love you."
In another message, Wilson glorified Jesus in expressing his gratitude for his family which includes Ciara, her son, Future Wilburn, and their unborn baby. 
"Grateful for you three! I will forever cherish the Love we all share together," Wilson wrote. "Jesus is an amazing God! I thank Him everyday for bringing us together and I will forever cherish our loving family. #LoveConquersAll."
Ciara also took to social media to let her husband know how proud of him she was even if he did not win a championship.
"No greater blessing than having family," she wrote. "We're proud of you @Dangerusswilson."
The Wilsons were married last July and have been vocal about how God has been at the center of their relationship since the very beginning. Before she ever met her future husband, Ciara told Essence magazine that she had asked God for a God-fearing man.
"I remember telling my friend the kind of guy I wanted: a God-fearing man with a very fun spirit who loves kids and would really, truly care for me," Ciara told Essence magazine last year. "I was very specific because I do believe you can have it all."
After they began dating in 2015, Wilson said he heard God's voice telling him to lead Ciara in a Christ-centered relationship where they would take a vow of abstinence.
"I asked her 'What would you do if we took all that other stuff off the table and did it Jesus' way, no sex? ... I knew God had brought me into her life to bless her and for her to bless me, and to bless so many people with the impact that she has and I have," Wilson told The Rock Church congregation in 2015. "We're not going to be perfect, by any means. But He's anointed both of us and He's calling for us to do something special."