Russell Wilson Praying for NFL Stars Amid League Controversy; Says 'You Can't Expect Everybody to Be Perfect'
Russell Wilson Praying for NFL Stars Amid League Controversy; Says 'You Can't Expect Everybody to Be Perfect'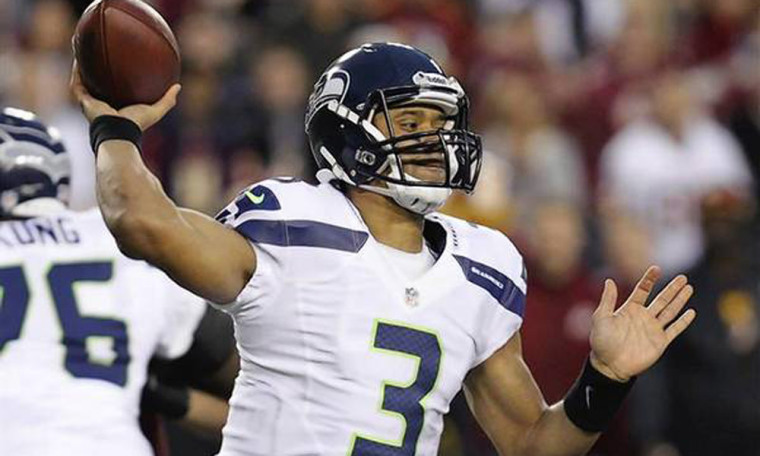 Russell Wilson, the Seattle Seahawks Christian quarterback, recognized that NFL players are not perfect and is praying for those who have been the topic of negative media headlines recently.
NFL players have been in hot water since a domestic dispute went public after a video surfaced of former Baltimore Ravens running back Ray Rice knocking his now- wife unconscious. A short time later, Minnesota Vikings running back Adrian Peterson faced two reports of child abuse that came to the surface in recent weeks.
The news became public when TMZ showed severe injuries that Peterson inflicted on his 4-year-old son after hitting him with a switch as a form of discipline. After countless fans watched Wilson pull out a win against the Denver Broncos in a repeat of last year's Super Bowl performance, the quarterback was questioned about his thoughts concerning the violent acts of fellow players. However, Wilson was not quick to condemn or pass judgement on his fellow NFL stars.
"Some of what's gone on is disappointing, but you can't expect everybody to be perfect," he said in an NFL.com report. "I'm not perfect, either. All you can do is pray for everybody in that situation and have faith that there will be a healing process, a time for forgiveness and, hopefully, a time for moving forward."
Instead of focusing on the negative news regarding NFL players, Wilson chose to do the opposite.
"I think there are a lot of great things players do in our community, and I try to do my part, to help people out and to be a great teammate," he told NFL.com. "I'm so blessed to be in this situation, and I want to try to influence people in a positive way."
To seemingly drive his point home, Wilson tweeted a passage from Colossians 3:2, which states "set your minds on things above, not on earthly things. (NIV)"