Russell Wilson Reflects on Faith After Teammate's Brutal Injury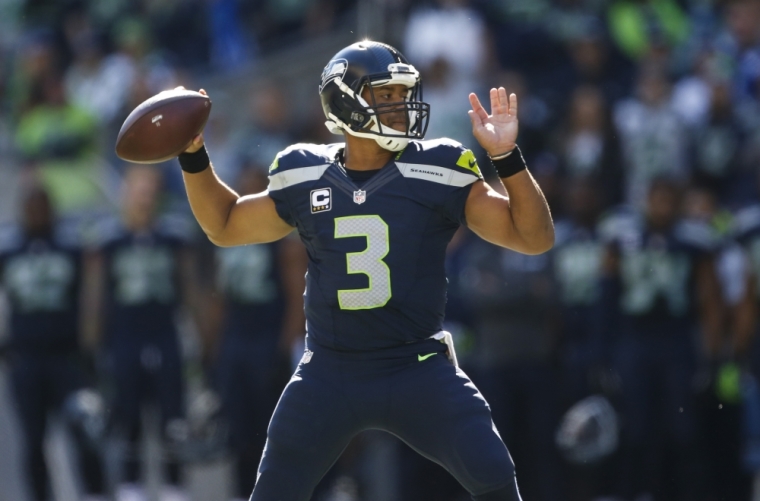 The Seattle Seahawks may have won the game against the Dallas Cowboys Nov. 1, but at the cost of a devastating injury to wideout Ricardo Lockette, which left quarterback Russell Wilson visibly shaken and reflecting on his faith.
After Lockette collided with Cowboys safety Jeff Heath, his motionless body was carted off the field while Wilson took a knee in an emotional moment dedicated to his friend and teammate.
"I'm sitting there thinking that the game is a lot bigger than the game. It's a lot bigger," Wilson said, describing the moment in a For The Win report. "It's about people's lives. I was fearful for one of my teammates in every way possible, just hoping he'd be able to walk again, be able to talk to us."
Despite his emotions, Wilson is not afraid of sustaining an injury in the high contact NFL because the 26-year-old believes God gave him the opportunity to play in the league.
"If you play the game you know that's one of the things that can happen," Wilson said. "For me, it's more about the camaraderie of the sport, and what God's given me here, the chance to play this sport and be one of the 32 guys in the world with my job."
The QB revealed that Lockette was a "believer" before the 29-year-old WR's five hour surgery. After his operation to repair ligament and disc damage in his neck proved to be successful, Lockette made sure to glorify God even though he will be out for the remainder of the season.
"Thanks for all the support," Lockette wrote on Instagram. "I've just been released from the hospital and the road to recovery has started!!! God did it #seahawks #rockette."
More than just Lockette, Wilson has bonded with his team spiritually and even organized a "coming to Jesus meeting" in Hawaii after his team lost in Super Bowl XLIX to the New England Patriots last February.
The Christian Seahawks quarterback organized the trip for 85 members, his teammates, coaching staff and their families for a divine moment in Maui, where they could find common ground spiritually and air out grievances after a taxing loss. The QB threw an interception instead of passing to running back Marshawn Lynch that cost his Seahawks a second-straight championship ring during Super Bowl XLIX, which resulted in tensions running high within the team.
Sports Illustrated detailed the 45-minute conversation that included harsh words, issues, and vulnerabilities by members of the team who Wilson wanted to bring back to being of one accord.
"It gave me chills," Wilson said of the divine meeting.
The fateful Super Bowl XLIX last play made by Wilson proved to be a monumental moment in his spiritual life. He previously spoke about God speaking to him about it.
"The play happens, and they pick the ball off. And I take three steps," Wilson told Pastor Miles McPherson in an interview at The Rock Church last July. "And on the third step God says to me, 'I'm using you. ... I want to see how they respond. But most importantly, I want them to see how you respond."