Russell Wilson Says He Has 'No Regrets' Telling the World He's Abstaining From Sex With Ciara Until Marriage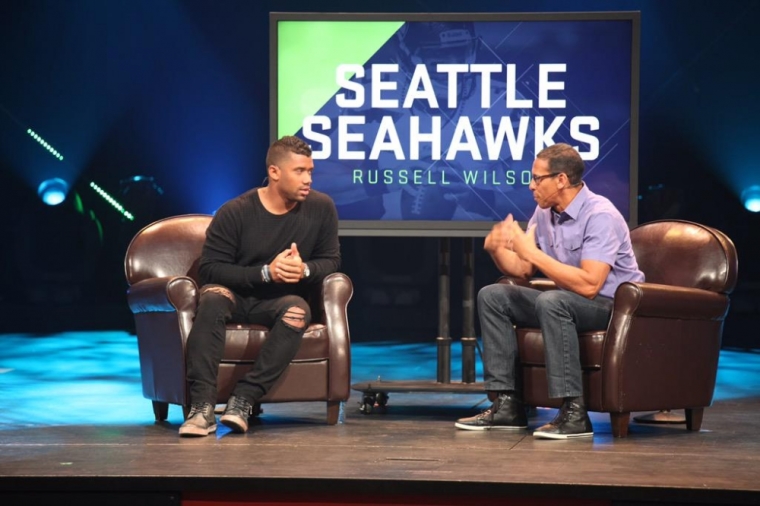 Christian Seattle Seahawks quarterback Russell Wilson insists he has no regrets after publicly announcing his decision to follow God and refrain from sexual intercourse with his singer girlfriend Ciara Harris.
Wilson, 26, took to the stage at The Rock Church in San Diego, California on July 5 where he revealed that God told him to lead Ciara in abstaining from sexual activity until marriage. The announcement was received with some harsh criticism, like CBS Chicago sports radio host Dan Bernstein from the show "Boers & Bernstein" implying that Wilson could be a homosexual or ESPN journalist Bomani Jones questioning the QB's honesty.
After KIRO radio personality Rachel Belle questioned Wilson about his endorsement deal with Austrian bread company Eat The Ball Tuesday, she asked if he regretted sharing so much of his personal life with the world.
"Do you regret the comments that you made when you did that video interview talking about the fact that you and Ciara have chosen not to have sex," Belle questioned Wilson at an Eat The Ball event. "That's something that was in the news nationally, internationally. Is that something you wish you never brought up?"
Even though Wilson seemed confused that the topic of his interview changed from speaking about his sponsor to his personal life, he stood by his public proclamation.
"Well, it went from Eat the Ball to this, I don't know how that happened," Wilson told Belle. "But, no, I don't. I don't have any regret, no. I'm a blessed man, I'm very, very grateful."
Belle also asked Wilson if he had any reaction to Ciara's former fiance, the rapper known as Future, speaking out against the NFL player publicly pushing the stroller of the recording artist's 1-year-old son whom he shares with the singer. In a radio interview with Power 105.1's "The Breakfast Club" Future said "of course I wouldn't want anyone to push my son — that's like the number one rule."
After Belle prompted Wilson to respond to the rapper, the football player said, "uh, I don't pay attention to all that."
For the remainder of his Q&A session with Belle, the Christian athlete decided to focus on his blessings.
"I'm very blessed, I'm grateful for all the opportunities I get to have. Obviously going to the ESPY's, but also being the host of the Nickelodeon's Kids' Choice Sports Awards," Wilson responded, after Belle asked if he ever dreamed about being famous. "That was one of the coolest things I've ever done. So I am very, very grateful."
While Wilson chose not to justify his decision to share his personal testimony with the world, the pastor who interviewed him at Rock Church, Miles McPherson, decided to defend the athlete in a recent blog titled "3 Things You Got Wrong About Russell Wilson."
"There are some in the media that claim waiting until marriage to have sex is 'stupid.' I bet you that this would not be a 'stupid' idea if he were dating their daughter," McPherson wrote. "Have you ever gotten a disease from, or had a baby with someone you couldn't stand? Indeed, there is another side to that 'next level' experience."