Russell Wilson Talks About His and Girlfriend Ciara's Miraculous Calling, Anointing
Russell Wilson Talks About His and Girlfriend Ciara's Miraculous Calling, Anointing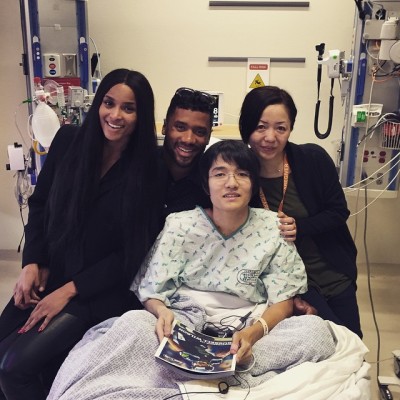 After he announced that God told him to lead singer girlfriend Ciara Harris in a vow of celibacy, Seattle Seahawks quarterback Russell Wilson insists the pair share the same vision.
While her latest music video "Dance Like We're Making Love" features the singer dancing in see-through clothing, she insists Wilson, 26, understands her and is OK with her form of artistic expression.
"We share similar views on pretty much everything," Ciara told Rolling Stone. "It's just superorganic."
Wilson shared the same sentiments as the subject of Rolling Stone magazine's September cover.
"We connect so well, and we have the same vision," he said before being asked about fitting into her hip-hop music world. "... It's a perfect fit, you know? Is it weird? No. It feels right."
After multiple public outings in the springtime, Wilson opened up about his relationship with Ciara at The Rock Church in San Diego on July 5 and told Pastor Miles McPherson that God told him to lead her.
In the Q&A session with McPherson, Wilson described how he presented the idea to his girlfriend.
"I asked her 'what would you do if we took all that other stuff off the table and did it Jesus' way, no sex?" Wilson asked the singer.
"I knew God had brought me into her life to bless her and for her to bless me, and to bless so many people with the impact that she has and I have," Wilson told McPherson. "We're not going to be perfect, by any means. But He's anointed both of us and He's calling for us to do something special."
The quarterback went on to quote Romans 8:6 "For to be carnally minded is death; but to be spiritually minded is life and peace," while his girlfriend told the magazine about Wilson being "real."
Ciara previously told "Access Hollywood" that agreeing to hold off on being intimate with Wilson has not been easy.
"I think both of us look at each other and we're like, whew," the singer said. "But we take it one day at a time and keep it going with each other, and I'm really enjoying every day that we're sharing."
In defense of Wilson's public announcement, McPherson wrote a blog that answered the question, "Did God really speak to [Russell Wilson]?"
"I can totally understand people questioning if God would speak to anyone since so many people worship things that can't talk, such as money, cars, success, and even good deeds. It would be absolutely ridiculous to expect those idols to speak to you, especially with a personal message," the pastor wrote. "However, hearing God speak isn't a foreign concept for people who worship a living and loving God. He not only speaks, but He created speech and wants to be involved in our everyday lives."
McPherson based another question around the idea of Wilson announcing he and Ciara's celibacy publicly.
"When God directs a man to be a leader in his relationship and home, He is directing him to take the initiative to serve his family," the pastor wrote. "God has not directed people to control people. That's called abuse and slavery. Being the leader means being the servant, not the boss."