Russia Advances Bill to Decriminalize Domestic Violence
Russia Advances Bill to Decriminalize Domestic Violence
Domestic violence, already commonplace in Russia, might soon be decriminalized entirely by the country's parliament.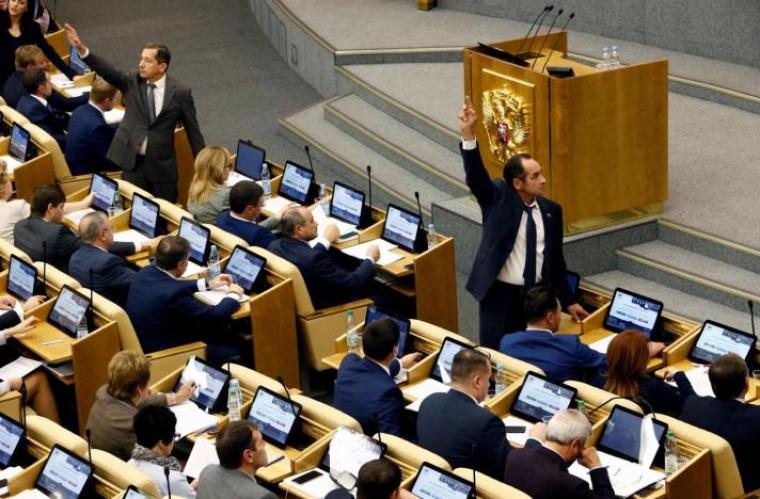 The Russian parliament is advancing a bill to decriminalize any domestic violence that falls short of bodily harm or rape. The bill was introduced by ultra-conservative lawmaker Yelena Mizulina -- responsible for Russia's "gay propaganda" ban -- and it's aimed at appealing to the nation's conservative voter base.
The bill, which has been approved by deputies in the lower house of parliament, is scheduled for a Wednesday reading in the Duma (Russia's legislative body). If it passes through Duma, it is guaranteed an approval by the upper house from where it would pass to President Vladimir Putin's desk -- whose government initially disapproved the bill.
Domestic violence has been a thorny topic in Russian lawmaking. Last year, the Supreme Court ruled to decriminalize battery (use of physical force against another person) that doesn't inflict bodily harm but it retained the right to impose criminal charges on those accused of battery against family members -- a move that raised an outcry among conservative activists who reasoned that the law allows harsher punishment for parents who spanked their child than for non-relatives of the child who did the same, reports the Associated Press.
"If the father spanks his child for a good reason as a means of education, a traditional Russian one, he will be sentenced to two years in prison — and if a neighbor does this, he will get away with a fine!" a conservative journalist told Vladimir Putin at the Russian President's annual conference last year.
In reply, Putin said that "it's better not to spank children and refer to some traditions," but he then added, "We should not go overboard with it (punishment for battery). It's not good, it harms families."
Nearly 20 percent of Russians think that it is OK to hit a spouse or child in certain circumstances. Russian Interior Ministry statistics have revealed that 40 percent of all violent crimes in Russia are committed in domestic surroundings. Domestic violence in 2013 attributed to the deaths of more than 9,000 women.
The probable enactment of this bill has caused concerns among human rights activists. Irina Matvienko, who runs the Anna Center Foundation's domestic violence hotline (the only one in Russia), said that the bill would not do anything to break the harmful mindset of Russian women who don't recognize domestic violence to be a crime. "Domestic violence is a system which makes it difficult for a woman to seek help," Matvienko said. "It's not a traditional value. It's a crime. "
Alyona Popova, an activist whose online petition against the bill has received more than 180,000 signatures, sees the proposed law as a continuation of the Kremlin's aggressive vendetta targeting multiple groups from foreign-funded NGOs to gay people. "I think it is part of an overall ideology: aggression and violence are on the rise in society in general since war is everywhere and we're surrounded by enemies," Popova said.
The bill's adversaries are not limited to Russian activists. Council of Europe Secretary-General Thorbjorn Jagland sent a letter expressing concern at the legislation to the Russian parliament earlier this week. However, the letter was dismissed by Duma speaker Vyacheslav Volodin as an "unacceptable" attempt to influence the Russian lawmaking process.
Domestic violence is still a taboo in Russia with most people not willing to go public if they experience it and the bill would just serve to further the negative stereotype that surrounds it. There have been no significant protests against the bill so far.