Saddleback Church Cancels Worship Services to Be Good Neighbor
LAKE FOREST, Calif. – In a rare move, the 20,000-member Saddleback Church in Orange County is canceling all of its worship services during the second weekend in December in order to help facilitate a huge neighborhood volunteer opportunity.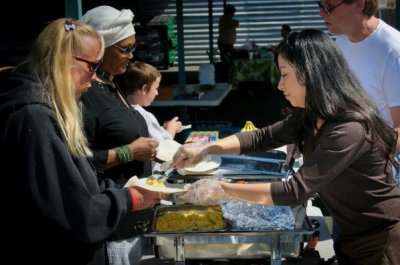 Best-selling author and pastor Rick Warren is asking members of his congregation to take at least a half day on Saturday or Sunday (Dec. 10, 11) to go "serve in the community and love your neighbor as yourself."
In its 31-year history, the megachurch has canceled weekend services less than a handful of times, according to Warren.
Church officials are hoping to mobilize Saddleback's base of 5,000 Bible study groups, referred to as "small groups," to perform their own chosen acts of kindness in their neighborhoods.
Pastor Erik Rees, designated as the pastor of Ministries and Life Worship at the church, is leading the team that is championing the event called, "Good Neighbor Weekend."
"Saddleback has always been a loving and caring church that gives and gives, so this weekend will continue our commitment to love our neighbors," Rees told The Christian Post. "The weekend will include a variety of ways to shower our neighbors with compassion, kindness and love. These opportunities include on-campus, in the community, and through our 5,000 small groups."
Although not all service opportunities have been recorded, the church has assembled more than two dozen organized activities made available on its website for members to discover and choose which to sign-up for. However, many people and small groups will decide on their own projects.
Volunteer opportunities listed on the church's website include visiting severely disabled children in hospitals, serving breakfast to homeless and families living in motels, and helping families having members in the military stationed away from home with house chores.
"Saddleback Church has a wonderful 30-year history of maximizing the Christmas season to fulfill God's call to love our neighbors," Rees said. "With the current climate of the economy, the leadership team felt the greatest way to 'love' this year was to make our weekend 'service' about 'serving' our neighbors."
"Over the course of two days, thousands of our members and small groups will use their time and talents to show God's love. It's going to be a great weekend," he added.
Church officials hope to be able to log 50,000 combined individual hours of service within the surrounding neighborhoods of Orange and Riverside counties.
Warren recently enlisted pastors Bill Hybels of Willow Creek Community Church in the Chicago area, and Miles McPherson of Rock Church in San Diego, who gave weekend messages last month about evangelizing and giving service out of love to neighbors.
McPherson, in reference to Christians, was recently quoted as saying, "We're not here to have a church service, but to be the hope of the world."
When asked about what his hope is for Good Neighbor Weekend, Rees said, "To show God's love to our neighbors across the street, down the road, and in the community through simple acts of compassion and kindness."
Rick Warren's Saddleback Church "Good Neighbor Weekend"