Samaritan's Purse Doctor Contracts Ebola Virus While Fighting Outbreak; Top Liberian Doctor Dies From Disease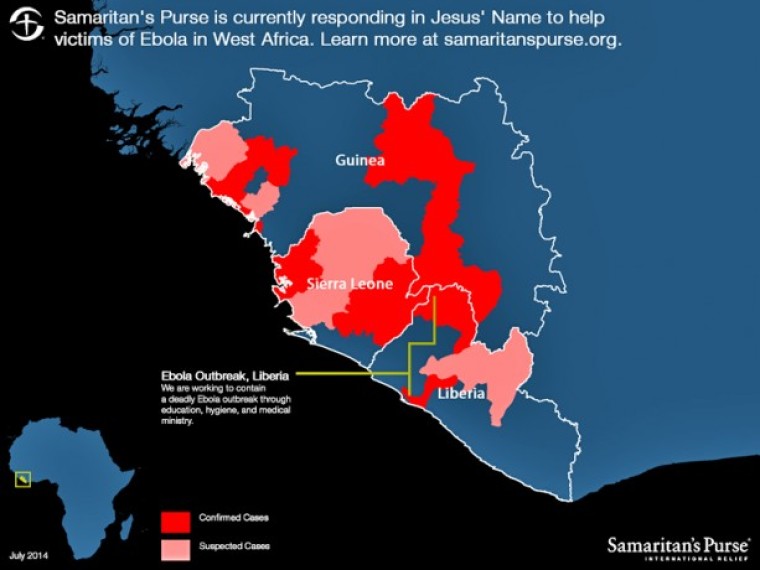 A Samaritan's Purse doctor working in Liberia to fight the deadliest outbreak of Ebola virus in history is one of two Americans to have contracted the disease, while one of Liberia's top doctors died of the virus on Sunday.
The Christian relief group, which is leading operations at a treatment center in Liberia, announced that Dr. Kent Brantly is currently undergoing treatment at a Samaritan's Purse isolation center.
"Dr. Brantly is married with two children. Samaritan's Purse is committed to doing everything possible to help Dr. Brantly during this time of crisis. We ask everyone to please pray for him and his family," the group said in a statement on Saturday.
Samaritan's Purse is working with the Centers for Disease Control, the World Health Organization, the Liberia Ministry of Health and other global health authorities to fight the spread of the Ebola virus in West Africa, which to date has infected at least 1,093 people and killed 660.
Liberian officials announced on Sunday that Dr. Samuel Brisbane, one of its most high-profile doctors, has died while treating patients at the John F. Kennedy Memorial Medical Center in Monrovia.
Brisbane is the first Liberian doctor reported to have died from the outbreak, which has killed 129 people in Liberia alone.
The Associated Press said that a second American physician is also being treated for Ebola, which highlights the risk health workers face while working in close quarters with the deadly virus, which is known to have a 90 percent kill rate.
Samaritan's Purse said that Nancy Writebol, also helping in a joint team at the Case Management Center in Monrovi, fell ill and is receiving treatment.
"Writebol is married with two children. We request that her family's privacy be respected during this difficult time, and please keep them in your prayers," the group said in another statement.
The Rev. John Munro, pastor of Calvary Church in Charlotte, North Carolina where the U.S. missionary hails from, revealed that Writebol and her husband had been in Liberia for about a year, and had insisted on staying there and helping despite the grave risks involved.
"These are real heroes — people who do things quietly behind the scenes, people with a very strong vocation and very strong faith," Munro said.
The outbreak has stricken a number of doctors in the past month, including an Ugandan doctor working in Liberia, who dead earlier in July.
Sheik Umar Khan, Sierra Leone's head doctor fighting the Ebola virus, also fell ill last week, after having treated more than 100 Ebola patients, and was hailed as a "national hero" by the health ministry.
Sierra Leone Health Minister Miatta Kargbo added that she would "do anything and everything in my power to ensure he survives."
In its latest update late last week, WHO reported that there have been 45 new cases and 28 deaths between 18-20 July.
"Efforts are currently ongoing to scale up and strengthen all aspects of the outbreak response in the three countries, including contact tracing, public information and community mobilization, case management and infection prevention and control, and coordination," the update states.