Sarah Palin Slams PETA, Rants About President Obama 'Eating Dog Meat' After Family Dog Photo Garners Backlash
Sarah Palin Slams PETA, Rants About President Obama 'Eating Dog Meat' After Family Dog Photo Garners Backlash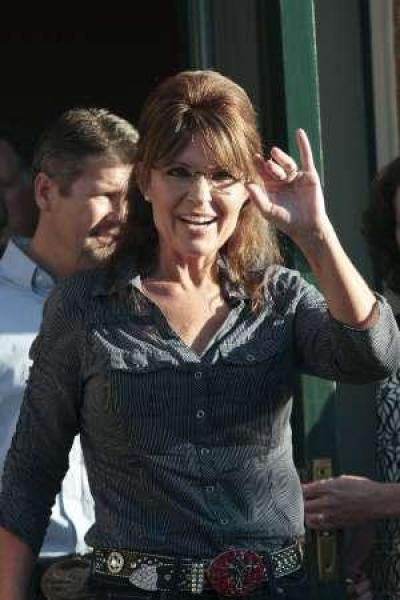 Sarah Palin slammed PETA and took a dig at President Obama in response to backlash she garnered for sharing a controversial photo of her son Trig standing atop the family dog.
The former vice-presidential candidate posted the photo on social networking site Facebook on Jan. 1 while wishing her fans a "Happy New Year," and some took offense. In the photo her six-year-old son Trig, who has Down syndrome, is seen casually using the adopted pet as a "stepping stone" to reach the kitchen sink and animal rights activists blasted the behavior as cruel.
TO SEE PALIN'S CONTROVERSIAL PHOTO CLICK HERE
"It's odd that anyone—let alone a mother—would find it appropriate to post such a thing, with no apparent sympathy for the dog in the photo," PETA said in response to Palin's photo.
The former Alaskan governor wasted no time slamming the animal rights group for being "hypocritical" and also took aim at President Obama, who once revealed that as a boy he sampled dog meat in Indonesia in his best-selling memoir, Dreams from My Father: A Story of Race and Inheritance.
"Dear PETA, Chill. At least Trig didn't eat the dog … Did you go as crazy when your heroic Man-of-Your-Lifetime, Barack Obama, revealed he actually enjoyed eating dead dog meat?" Palin wrote in a lengthy Facebook post.
She also called the organization "hypocritical" for having "double standards" when it comes to who they publicly criticize. She referenced a photo once posted by talk show host Ellen DeGeneres, which shows a young girl standing atop a dog.
"Hey, by the way, remember your "Woman of the Year", Ellen DeGeneres? Did you get all wee-wee'd up when she posted this sweet picture?" she wrote with a link to the photo. "Hypocritical, much?"
While Palin refuses to take the photo down, she insists that she does not advocate animal cruelty and that in fact her values are in line with PETA's when it comes to God's creatures.
"... I'll bet we agree on what I hope is the true meaning of your mission – respecting God's creation and critters," she wrote.
PETA responded to Palin in a second statement and said she does not understand their organization.
"Palin's Facebook response shows us that she knows PETA about as well as she knows geography," they wrote.