Sarah Silverman and 'Jesus' Discuss Abortion, NFL Protests, Healthcare (Watch)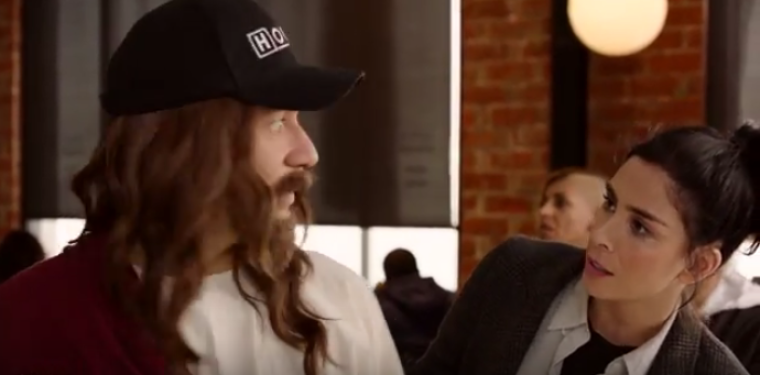 Comedian Sarah Silverman is asking a caricature of Jesus Christ about hot button issues like abortion, NFL protests and healthcare on her Hulu comedy series, "I Love You, America."
Silverman, 47, used an episode of her variety show this week to introduce the fictitious Jesus played by actor Fred Armisen. In the skit called, "Jesus In A Sandwich Shop" Silverman bumps into Jesus while in line to get a sandwich.
The comedian's version of Jesus spoke about going to therapy, having an affinity for the New England Patriots and quoted non-canonical scripture from the Gospel of Thomas by saying, "if you don't bring forth what is within you, what you don't bring forth will destroy you."
After speaking against people who use the name of Jesus to do "un-Jesusy" things, Silverman decided to ask him about his thoughts on NFL protests.
"What a beautiful way to get your voice heard," he responded.
When Silverman questioned "Jesus" about healthcare, he spoke against the healthcare system in the United States.
"If someone is sick, you take care of them, right? This is a country where if you're poor they let you die if you're sick," he said. "What a great way to treat someone. Not."
The Jesus character said he was against abortion, but also said the decision should be left up to the mother and compared aborting a baby to squashing a bug.
"I'm also against the squashing of the tiniest bug. So whether or not you squash a bug or kill an animal or have an abortion, that's up to the individual," he said. "But I could never harm anyone of daddy's creations."
He went on to speak about his issue with prayer.
"I have to say that makes me crazy because a prayer is just a thought but it starts with 'dear Lord' or 'dear God.' So you're acting like you're doing two different things," he said. "Just do the one."
Silverman's version of Jesus called for people to write to their elected officials instead of focusing on prayer.
"How long does a prayer take? Six seconds," he asked. "Would it kill you to call your legislator, call Congress, do something real?"
This is not Silverman's first time making light of Jesus Christ. In 2015, she tweeted about Jesus being gender fluid.
While the ethnically-Jewish actress said she does not subscribe to religion, the comedian previously told Rolling Stone that she does not have any issues with Christianity.
"I'm not against Christianity. I date Catholic men! That's always what they come back with, 'Sarah Silverman mocks Christianity,'" she said. "I'm not! As a matter of fact, I have no religion and many people in my life that I love and respect and even look up to have religion."