Satan in 'The Bible' Resembling President Obama a Publicity Stunt, Says Bill O'Reilly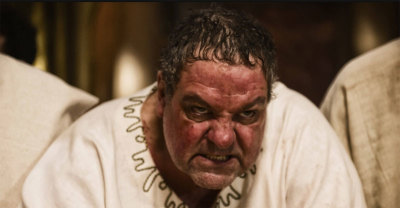 The brouhaha over episode 3 of the History Channel's "The Bible" miniseries, in which Satan appears to bear a resemblance to President Obama, brought accusations from Fox News host Bill O'Reilly who believes Mark Burnett did this on purpose as a publicity stunt.
"This can't be an accident," said O'Reilly, who invited Burnett to appear on his program to present his side of the facts to "five million people." Burnett has declined the offer to appear on O'Reilly's show.
Paul Bond of The Hollywood Reporter and Linda Stasi, a television critic for the New York Post, presented their expert critiques on Tuesday's edition of "The O'Reilly Factor."
Stasi, however, only displayed her lack of knowledge about the miniseries when she claimed, "there's no black people in this, except when it comes to [Satan]."
"All the good guys are very white, very waspy," Stasi said. "Somebody's Freudian slip is showing here. He's the same color as the president of the United States."
Both O'Reilly and Stasi argue that Burnett and his wife, Roma Downey, co-creators of "The Bible," were aware that Mohamen Mahdi Quazanni, the actor who portrays Satan, was made-up to look like Obama.
"It's intentional," O'Reilly said. "I know Mark Burnett pretty well. He came on the program to promote 'The Bible' – he wanted everyone to get the word out.
"Now he has a controversy on his hands, and suddenly he's not available to come on. That tells me all I really need to know."
Roma Downey took to twitter earlier this week to defend the series: "Folks are getting distracted and making stuff up. Let's talk about Jesus not about Satan, let's look at the light and not the dark."
She also commented on her meeting at the White House with the first family, tweeting on Monday: "I just left an event at White House. Met President Obama and the First Lady and was thrilled to speak of the success of The Bible series."
The History Channel and executive producers Burnett and Downey also released a joint statement on Monday to address the accusation:
"This is utter nonsense," Burnett and Downey said in the statement. "The actor who played Satan, Mehdi Ouzaani (sic), is a highly acclaimed Moroccan actor. He has previously played parts in several Biblical epics – including Satanic characters long before Barack Obama was elected as our President."
Downey added, "Both Mark and I have nothing but respect and love for our President, who is a fellow Christian. False statements such as these are just designed as a foolish distraction to try and discredit the beauty of the story of The Bible."
Bond, who supports Downey and Burnett's claim, said to O'Reilly, "I don't think it was purposeful on Mark Burnett's side or his wife's, because they're both big supporters of Obama. They've given him money; they praise him all the time on the record." Instead, Bond suggested the possibility that a makeup artist went "rogue."
On Monday, Jay Leno joked on NBC's "The Tonight Show" that New Jersey Gov. Chris Christie looks similar to the actor who portrays King Herod in "The Bible."