Satanists bring their abortion extremism to Boston for 'SatanCon'; Christians respond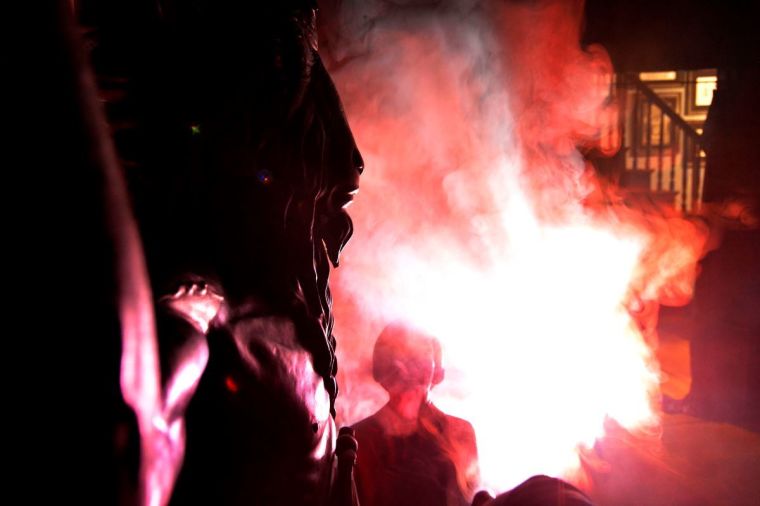 As the Satanic Temple kicks off what is billed to be the largest gathering of Satanists in history this weekend in Boston, one pro-life leader warns about the "connection between Satanism and abortion" as churches are bracing for the influx of Satanists in the city.  
Known as SatanCon 2023, hundreds are slated to gather between Friday and Sunday for a sold-out event hosted by a group known for making fun of Christians and theologically conservative beliefs. 
Many of those gathered are likely to display their support for abortion as the Santinic Temple promotes what it calls abortion rituals and has filed legal challenges against state restrictions on legal access to abortion, arguing that abortion is a religious right. 
Priests for Life National Director Frank Pavone said in an interview with The Christian Post that while many attendees will deny that they are coming together to worship Satan, he was "very sensitive to the connection between Satanism and abortion."
"These Satanists who are gathering will claim that they do not worship the devil. In fact, they will claim that they do not even believe in a personal spiritual being called the Devil or Satan," Pavone said. 
"Anything that even appears to be worship of the devil or being elite with the devil is dangerous stuff because the devil is real."
Held at the Boston Marriott Copley Place, SatanCon 2023 will feature discussions on topics like "Re-imaging Lilith as an Archetype for Reproductive Justice," "Sins of the Flesh: Satanism and Self-Pleasure," "Reclaiming the Trans Body: A/theistic Strategies" and "Deconstructing Your Religious Upbringing."
Pavone also told CP that "historically, child sacrifice is very much connected with Satanism and worship of demons," noting that examples can be found "even in Scripture."
"In the Old Testament, there are many passages that talk about how the Israelites and nations around them would at times sacrifice their children to demons, and this was one of the reasons God punished them quite severely," Pavone said. 
"In a deeper spiritual sense, what we believe about the devil is that he hates God and he knows he cannot kill God. So he does the next best thing in his mind, which is to kill what is made in the image of God, which is human life. So we see the devil as wanting violence against human beings. It's a form of rebellion against the One who created them." 
As some Christian groups will be present in Boston with the purpose of evangelizing to SatanCon attendees, Pavone believes there is potential for SatanCon attendees to have their hearts changed by the Gospel, especially when presented with the realities of abortion. 
"If there are some people there, gathered for this conference, who have an open mind, who have an open heart, who are willing to let the truth guide them away from where they are now, there can certainly be conversions," Pavone said. 
A Christian event called "ReviveBoston" is also planned in Boston this weekend, with organizers calling for thousands of Christians to overcome evil by gathering for worship, prayer and evangelizing the city.
ReviveBoston will be spearheaded by Jaymz Sideras, a revivalist from London. Sideras and his evangelism team plan to preach God's Word to the city, while also baptizing as many people as they can at the event. 
The Catholic Archdiocese of Boston announced that it will open several churches throughout the weekend for prayer and adoration. 
"We ask Catholics not to organize or encourage others to go to the event to protest," the announcement reads. "It will only make it more prominent and give the organizers the attention they seek. Rather than protesting in person, we hope to storm the Heavens with prayer from our shrines, monasteries, and parishes."
The declining Christian population in the U.S. over the last several decades has coincided with a rise in individuals who don't identify with any religion. Since its founding in 2012, the Satanic Temple claims to have grown to over 700,000 members. 
Pavone warned that Christians planning to evangelize at SatanCon need to be careful of the potential schemes of the enemy to try to lead them astray.
He also advised newer Christians to avoid the conference altogether to avoid becoming confused about what they believe since "going into a satanic conference has its own characteristics and its own dangers."
"Christians who are going to do that really have to have a higher level of spiritual preparation. They have to be very, very familiar with the dynamics of how the devil works, the dynamics of spiritual battle. They have to be very close to Christ," Pavone said. 
"They have to take extra steps. In other words, they need to be spiritually fortified, if they're actually going to go into a conference like that. So I would not be opposed to it in any way. But I would just caution that it does require extra spiritual preparation."  
Pavone warned, "The devil is always prowling like a lion looking for someone to devour." He stressed that "the devil is present at these gatherings, whether the people gathering want to explicitly say that or not." 
"Here's the thing about Satanism, it arouses curiosity. Even people who are not looking to get into any spiritual trouble can be captivated just by the curiosity of it all. They can really get trapped by it," he added. 
"The devil really doesn't care if people worship him or not. All he wants is that they do not worship the true God, Jesus. What we have to realize is that, you know, these kinds of things can arouse that kind of curiosity."