Savannah Chrisley Responds to Tim Tebow Dating Rumors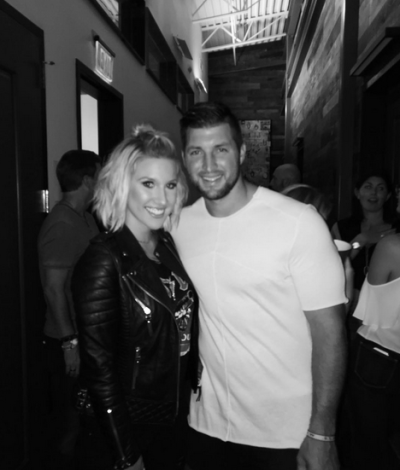 Savannah Chrisley is responding to rumors about dating athlete Tim Tebow.
While Tebow, the 30-year-old college football champion turned minor league baseball hopeful, laughed off dating rumors when approached by TMZ, 20-year-old Chrisley gave more details about the photo that sparked the rumors.
"There is no couple to it," the "Chrisley Knows Best" star told TMZ after they questioned her about her relationship status with Tebow. "We just have a bunch of mutual friends so it was fun."
Questions arose about Chrisley and Tebow's relationship after the television personality, who appears on USA Network with her family, took to Instagram to post an image with Tebow at a Sam Hunt concert earlier this month.
"What a great night last night!! @timtebow so sweet! #15ina30tour," Chrisley captioned the photograph.
However, Chrisley and her mother Julie chuckled when TMZ questioned them about Tebow last week. Chrisley explained that she and Tebow had mutual friends who went to the Sam Hunt concert where the picture was taken.
"One picture and everything gets started. We were all in a room with a bunch of mutual friends [at a] Sam Hunt concert so it was fun," she said. "Super cool guy..so I guess it's hard to have guy friends without people thinking something is going on."
Chrisley has been transparent about her love life in the past, including her breakup with Detroit Pistons guard Luke Kennard last month. In a statement obtained by E! News, Chrisley revealed the reason her four-month relationship ended.
"The last four months I've been dating Luke have been great but as a young woman of faith I made the decision that with where Luke and I both are in our careers, it was best to part as friends rather than deal with the pressures of wondering if you are the only one," she said. "I was brought up to know my worth. I'm 20 now and so excited to live my life as beautifully as God intended."