SBC President Ronnie Floyd Calls Bruce Jenner's Transition to Caitlyn 'Sad;' 'No Such Thing as Gender Neutral' He Says
'I Still Have to Call Him Bruce, His Father and I Named Him That,' Says Mother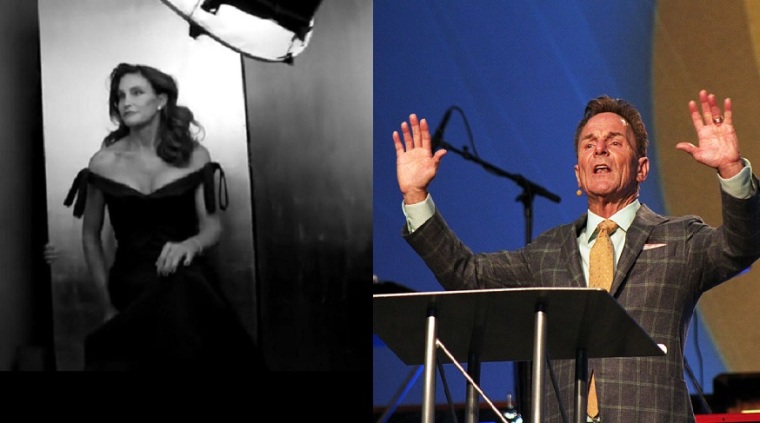 Arkansas pastor Ronnie Floyd, who also serves as president of the Southern Baptist Convention, the world's largest Baptist denomination, called Bruce Jenner's recent transition into a woman named Caitlyn "sad" during a fiery sermon at the five-branch Pinnacle Cross Church on Sunday.
Floyd, who has been senior pastor of Pinnacle Cross Church since 1986 and has close ties to the famed Duggar family, delivered a scathing sermon in which he denounced Jenner's transgender move. He said "gender is not fluid" and reiterated that God does not make mistakes.
"Bruce Jenner, whom some of you have read about ... at 65 years of age he came out recently that he was transgender. … He states 'for all intensive purposes I am a woman.' That is sad," Floyd told his congregation on the eve of Jenner's big reveal.
The celebrated Olympic gold medalist who's a self-proclaimed Christian, debuted his new female identity on the cover of Vanity Fair on Monday. Jenner now goes by the name Caitlyn and Floyd criticized the public's response to the reality TV star's life-changing decision.
"Let me tell you what else is sad: the comments from the American culture. Comments like, 'Once a champion, always a champion.' Comments like 'An American hero yet again,'" he said. "Did God make him this way? Absolutely not."
Floyd said that ultimately Jenner, who has been known to attend his ex-wife Kris Jenner's California church, Life Change Community Church, is a sinner who can only be saved through God's grace.
"You know, this is going to shock some of you, and it might even be offensive to some of you, but I want to make something real clear, Bruce Jenner is just like you and me. We are born sinners, and we're born broken. And we're all in need of the grace of God. And we need to understand, regardless of our past, Christ died for us," said Floyd.
"... He's got the same problem we have, we're all broken … we live in a Genesis 3 world. If it were not for the grace of God, some of us would think confused and twisted, but the grace of God and only the grace of God can keep us away from that."
Floyd alluded to what he says has become a global effort by the LGBT community to try and confuse society by blurring gender lines.
"I want to make this very clear today, the word male and the word female are not the same words in this text," he said, referring to the Holy Bible.
"They are two different words. Why is this important? Because there's no such thing as gender neutral. … And the whole scheme of the world today is to try to get us to see those are very, very unclear lines. They're not unclear lines. … If you're created a man you are specifically and intentionally created to be a man, so don't try to be something else."
Earlier this week Jenner's mother, Esther, said that even though she supports her son's happiness, she will continue to call him Bruce and not Caitlyn.
"I still have to call him Bruce. His father and I named him that," she recently told Access Hollywood. "It's going to be a struggle for me to get used to the change, but happily so… I'm very happy for him — or her!"
Hours after the sermon, Floyd was asked about explosive allegations recently made against former Family Research Council Action Executive Director Josh Duggar, whose famous family regularly attends Pinnacle Cross Church. He is accused of molesting five underage girls when he was 14, and his reality TV star sisters have not been ruled out as possible victims.
"Everyone does wrong, and what was wrong was very wrong as to what was testified to and it's completely unacceptable," Floyd told people.com. "But I'm thankful, whether it's him or any other one, that I serve a God who can forgive everything.''
The Christian Post reached out to Floyd for further comment on Wednesday but calls were not returned in time for publication.