SBC President Ronnie Floyd Says 'Now Is the Time to Lead' on Abortion, Gay Marriage, Racism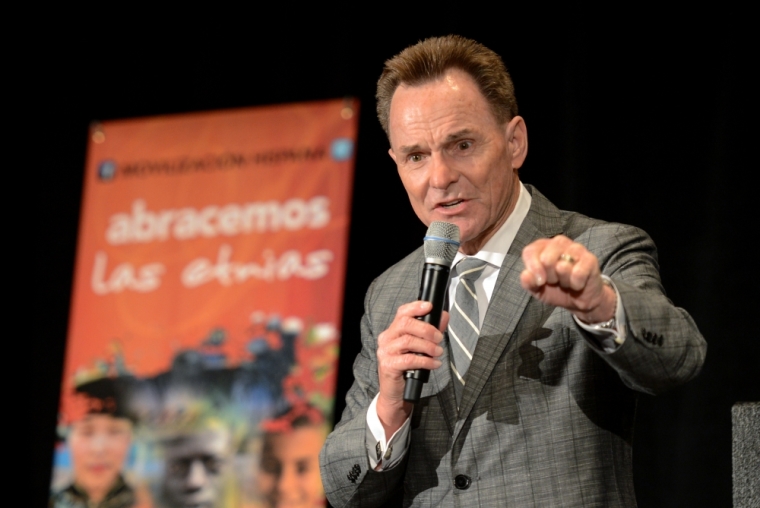 Southern Baptist Convention President Ronnie Floyd told messengers gathered at the opening day of the denomination's annual gathering Tuesday that "now is the time to lead," on issues such as abortion, same-sex marriage, and racism.
"We are in spiritual warfare, and this is not a time for Southern Baptists to shrink back in timidity or shrink back with uncertainty," said Floyd during his opening address at the SBC annual meeting in Columbus, Ohio. "Crises abound; the need is great hour is late, and now is the time to lead."
The SBC president also highlighted global calamities including the advance of ISIS, human trafficking, Boko Haram, the persecution of Christians as well as crippling problems in the U.S., such as poverty, debt, and race relations.
"We are adrift in denial," said Floyd, quoting Peggy Noonan.
The senior pastor at Cross Church in Springdale, Arkansas, prayed for the next great spiritual awakening, stating "we need a Jesus revolution" in the U.S. before addressing hot-button moral issues under fire in the legal system today like abortion.
"America, we stand believing that abortion is a glaring desecration of the unborn child's purpose and value," said Floyd. "We must be vigilant in this fight for the unborn child. All human life and human dignity — from the womb to the tomb. God has created all of us for His glory, and when we devalue human life, we are robbing God of his intended glory for every person in the world."
Referring to the U.S. Supreme Court's upcoming decision on whether gays and lesbians have a constitutional right to marry or whether state bans against same-sex marriage can remain in place, Floyd took a firm stance in his religious conviction that marriage is strictly between one man and one woman.
"We do not need to redefine what God himself has defined already," he said.
Floyd explained to the audience that they will be asked to approve a resolution that affirms Southern Baptist beliefs on marriage. The resolution also reminds Christians to love our neighbors and extend respect to all people, even those who disagree with them.
"While we affirm our love for all people, including those struggling with same-sex attractions, we cannot and will not affirm any behavior that deviates from God's design for marriage," said Floyd. "Our first commitment is to God and nothing else and no one else. I humbly remind everyone today the Supreme Court of the United States is not the final authority, nor is the culture itself, but the Bible is God's final authority about marriage and on this book we stand."
In his final comment on same-sex marriage, Floyd took an oath to never sanctify gay marriage.
"I declare to everyone today as a minister of the Gospel, I will not officiate over any same-sex unions or same-sex marriage ceremonies, I completely refuse," said the pastor.
On the issue of race relations, Floyd asserted: "America, we stand believing that all humanity bearing of God's image is not contingent upon one's skin color, and we also believe all racism and injustice must end. We need to let grace begin uniting our hearts in the bonds of peace. We need to learn to love one another as Christ loved us."